Dams, Canals
Chubu Area
Kisogawa Canal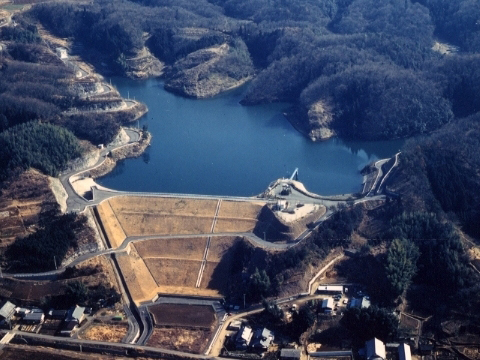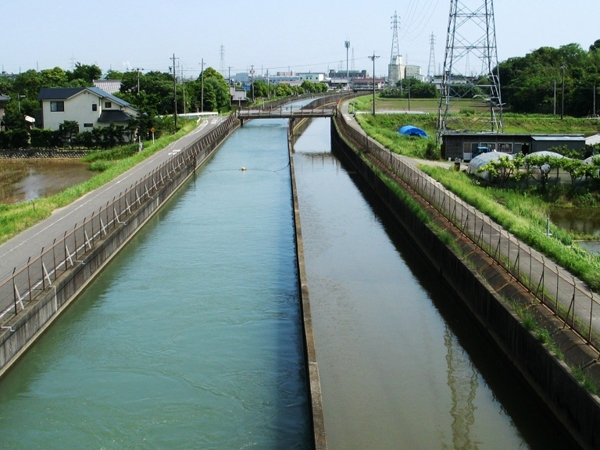 Purpose

1.Irrigation water

Max. intake: approx. 33m³/s (Benefited land: approx. 12,570 ha)

2.Domestic water

Max. intake: approx. 22m³/s

3.Industrial water

Max. intake: approx. 18m³/s

Benefited Area

Gifu Pref.

Minogamo Cit, Seki City, Kani City, Kawabe Town, Hichisou Town, Yaotsu Town, Sakahogi Town, Tomikao Town, Mitake Town

Aichi Pref.

Nagoya City, Tokai City, Chita City, Ichinomiya City, Tsushima City, Konan City, Inazawa City, Aisai Xity, Kiyosu City, Yatomi City, Ama City, Oharu Town,Kanie Town, Tobishima Village

Mie Pref.

Kuwana City, Yokkaichi City, Suzuka City, KIsozaki Town, Asahi Town, Kawagoe Town

Facilities

Kiso River Right Bank Area

Shirakawa Intake Works (3 gates), Main canal (1 canal Length=approx. 9.9km)
Main canals(2 canals Length=approx. 13.7km) Main canals (7 canals Length=approx. 21.1km)
Lateral canals (25 canals Length=approx. 65.5km) Regulating ponds (2 spots, effective storage capacity 529,000m³)


[Nobi No.2 Area]

Kisogawa Barrage (14 gates, 2 navigation passes, 3 fishways)
Main canal (1 canal Length=approx. 28.2km), Main canals(4 canals, Length=approx. 9.3km)
Lateral canals (27 canals Length= approx. 149.5km)
Yatomi Pumping Station (4 irrigation pumps, 5 urban water pumps)

Completion
1982
Details
Kisogawa Canal consists of Shirakawa Intake facility, Kisogawa Barrage, downstream common facility, Mie Prefectural urban canal facility and Ikada River east bank facility. The purposes of construction of this canal were the stable water intake for irrigation water based on the water resources rationalization policy and supply of domestic water and industrial water for Gifu, Aichi, Mie prefectures and Nagoya City. Management operation started in April1983.
Emergency reconstruction project was implemented between 1996 and 2001 to reconstruct the canal and machinery which needed emergency functional recovery and to supply stable water and secure the safety of facilities. The project purpose also included the reestablishment of water management system for monitoring and control of facilities, and eventually improvement of total safety of the facilities.
In addition, since 2007, JWA has been conducting maintenance management project of water resources development facilities to secure the functions of lateral canals and related facilities for which JWA has been entrusting to the Land Improvement Districts. On the right bank side facilities of Kiso River, many water leakage accidents happened due to the aging of them, and caused operational failure in water distribution management and facility management. To take emergency measures, JWA conducted the emergency reconstruction project for the right bank facilities of Kiso River between 2009 and 2014.

Mizuharu, Mizuri and Mizuzo
Location
Address

Inazawa City, Aichi Pref.

Phone No.

+81-587-97-3710

Fax No.

+81-587-97-1482
*Kisogawa Canal Integrated Operation and maintenance Office
Access
Train
Apprx.15 min. by car from Yamazaki sta. of Meitetsu Onishi Line
Car
Apprx.25 min. from Ichinomiya-Nishi IC of Meishin Expressway
Tourist Spots
Inuyama Castle

Inuyama Castle is located down south from the upstream of Kisogawa Canal. The castle is one of the 5 nationally designated

"National Treasure" castles

of Japan, still retaining the original wooden structure building. Overlooking Kiso River from the hill-top of the left bank of Kiso River, it gives us a grand view of the castle from the opposite side of the river and it also gives us a grand city view from the top platform (now serving as a observatory floor). This castle was orignally

built in 1537

. In a long history other structures than the central donjon have been destroyed. However, the original wooden doujon and fantastic view as well as cosy atmosphere kept in the rows of houses surrounding the castle make this castle town a worthwhile visit for tourists. Just for your information, The present castle was kept by a private owner of Naruse Family, descendant of

Naruse Clan

of Edo period,but has recently been changed to the ownership by an non-profit organization because of the maintenance cost and taxes.


Owari Okunitama Shirine (kounomiya)

Located about 3 minute walk from

Kounomiya Station

of Meitetsu Line, Owari Okunitama Shrine invites local worshippers. This shrine enshrines the local Shinto deities and is a center place to pray for them. On

January 13 on old lunar calendar

, this shrine is crowded with many spectacle viewers to observe the special ritual of expelling evel spirits. Thousands of men

just wearing loinclothes and white tabi socks

gather and perform the ritual. It is great fun to watch this event. Of course on other days, this shrine presents serine atlmoshere for regular prayers.

Events
Coming soon