Dams, Canals
Kanto Area
Nagara Dam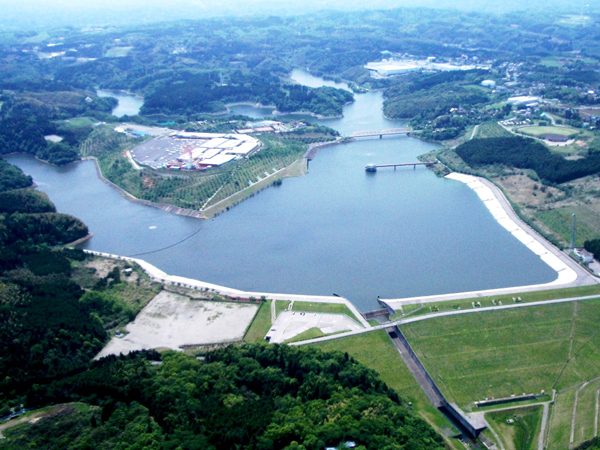 Purpose
WI

*

See more -> the functions of the dam
Location
Ichihara City, Chiba Pref. / Nagara Town, Chosei Gun, Chiba Pref.


*

See more
River
Murata River, Murata River System
Type
Earth fill dam
Gate
Gateless
Dam Height(m)
52
Crest Length(m)
250
Total Storage
(1,000m³)
10,000
Completion
1985
Details
Nagara Dam is one of Boso canal facilities that supply domestic water to Chiba city area, Kujukuri coastal area and Minami Boso area and industrial water to Keiyo industrial zone etc. The height of dam body is 52m and this is the fourth highest earthfill dam in Japan.

Inbacchi-kun
Location
Address

Nagara Town, Chosei Gun, Chiba Pref.

Phone No.

+81-475-72-4121
*Chiba Regional Water Control and Management Office / Boso Canal
Access
Train
Approx.20 min. by car from Kazusa-Mitsumata sta. of Kominato Railway
Car
Approx.15 min. by car from Mobara-Kita IC of Express of Metropolitan Inter-City Express
Dam Card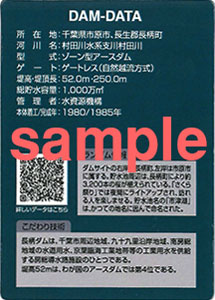 Tourist Spots
Kasamori Kannon Temple

Built in 1028, main temple hall building stands atop a

large rock with overhanging scaffoldings boasts

of its unique only-one structure. This all-sides hanging on the cliff shape attracts many visitors.

Events
Cherry Blossom Festival at Nagara Dam [Beginning of April]

Cherry Blossom festival is held along the bank of Nagara Dam reservoir. Some 3,200 cherry blossom trees of two types, Someiyoshino and Mountain cherry blossom, were planted around the dam reservoir. During the festival,

500 paper lanterns are illuminated from 18:00 to 20:00

, and the beautifully illuminated cherry blossoms are reflected on the water surface of the reservoir. Also, many featured attractions are performed on one Sunday as a special event day

in the beginning of April

, including selling local specialties and rice cakes catch, etc. The footpaths around the reservoir are well known for strolling of families and young people.