Dams, Canals
Kansai Area
Hiyoshi Dam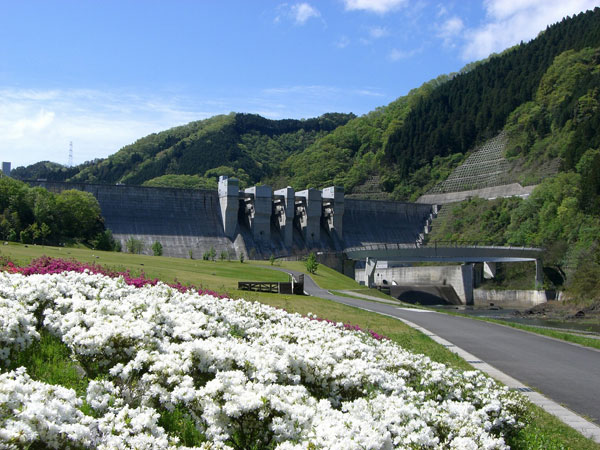 Purpose
FNW

*

See more -> the functions of the dam
Location
Nantan City, Kyoto Pref.

*

See more
River
Katsura River, Yodo River System
Type
Concrete gravity dam
Gate
High head radial gate:2
Radial gate:4
Dam Height(m)
67
Crest Length(m)
438
Total Storage
(1,000m³)
66,000
Completion
1997
Details
RCD (Roller Compacted Dam-concrete) method and ELCM (Extended Layer Construction Method) were used for its construction. Advanced submersible combined aerating circulation equipment with shallow layer water circulation function was developed for this Hiyoshi Dam. Hiyoshi Dam was awarded the Prize of AIJ (Architectural Institute of Japan) in 1999.


See more

The Brochure [871KB]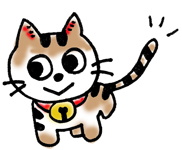 Nyantan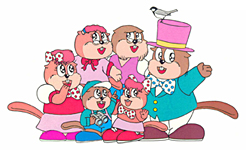 Beavers Family
Location
Address

Nantan City, Kyoto Pref.

Phone No.

+81-771-72-0171
*Hiyoshi Dam Operation and Management Office
Access
Train
Approx.30 min. by walk from Hiyoshi sta. of JR San'in Main Line
Car
Approx.7km from Sonobe IC of Kyoto Jukan Expressway
Dam Card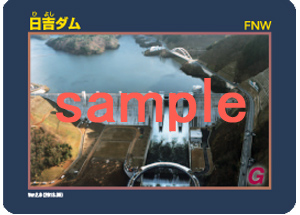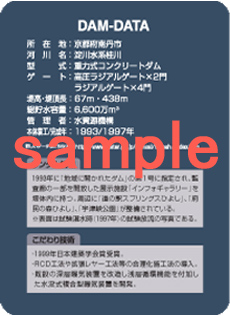 Award
Tourist Spots
Ruri Gorge

Located on the Sonobe River, south west of Hiyoshi Dam, Ruri Gorge is providing nice sightseeing and trekking trails along the gorge created by the erosion by rapid river water over a very long years. It's fun to walk on the trail from spring to autumn.


Miyama group of thatched-roof houses

Up north of Hiyoshi Dam beautiful country village is located. It is called Miyama. Miyama Village has become a well known tourist destination nowadays because this village retains the old-fashioned straw-thatched roof houses a lot. At Kitamura area, 38 out of 50 houses are thatched roof houses. Isn't it cool to put yourself in the environment where old country style houses and ever-green Kitayama Japanese cedar trees are all over the place? It is great to sit on a countryyard bench and enjoy nostalgic view with a cup of green tea, or even coffee.


Hozu River rafting and Arashiyama

Katsura River running through Kyoto is called Hozu River until it reaches the north-western entrance to the Kyoto City at Arashiyama Area. This Arashiyama Area is quite famous for its maple and other tree colors changing to red and yellow at the end of autumn in November. During this busy autumn season, the spot where the bridge is crossing the river is full of crowds of tourists. A little upstream is the Hozu River rafting port where tourists, who enjoy rafting from upstream, leave the boat. Before going to the dam or on the way back, it would be a good idea to stop by this scenic spot.

Gourmet Information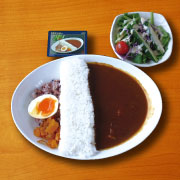 Hiyoshi Dam Curry and Rice
This dish is a big hit because of Dam Card which comes with it.
¥900 (excluding tax)
Springs Hiyoshi (Restaurant Katsuragawa)
Address

8 Nakamiyanomukai, Hiyoshicho, Nantan City, Kyoto Pref.

Phone No.

+81-771-72-1526

Open

11:00-19:00

Closed

on Wed.
*Prices and ingredients may change.
Events
Coming soon