13th "Water Exploration Team" -Hit the trail! (Destination: Kawakami Dam)
3 October, 2017
Kawakami Dam Construction Office of Japan Water Agency appointed 59 4th graders of Aoyama Elementary School of Iga City, Mie Prefecture the Member of "Water Exploration Team" to start an exploration trip to the planned construction site of Kawakami Dam, including a temporary diversion channel. The purpose of this exploration team is two-fold.
First, those school students will learn the importance of preservation of natural life in the dam site environment, and second, to learn the importance of water resources and key functions of a dam in this respect. They will learn the life of a giant salamander, one of the huge and unique water creatures living in this environment. This is the 13th tour and school children are very much excited about the site visit and watching a real living giant salamander with their own eyes.
Tour plan in detail:
Date
October 12, 2017 8:40-11:30
(Optional extra day: October 1, 2017)
Destination
1) Kawakami Dam's planned construction site
2) Aoyama Elementary School
Team members
59 students of 4th grade of Aoyama Elementary School of Iga City, Mie Pref.
Activities

At the audio-visual room of the shool


Students will learn through brief lectures the precious value of natural water resources and the functions of a dam related to the use of the resources and also the life of a giant salamander, a living fossil in Japan.

At Kawakami Dam's planned construction site


They will take a closer view of the planned dam site, then visit a temporary diversion channel and will take a walking tour inside of the tunnel. Construction Office staff will guide the tour.
Remarks
The students will go to the site by bus provided by the construction office and all of them will be asked to wear helmets during the site tour.
(Such coordination work between the school and Japan Water Agency helps promote the sense of kindness to nature among children of the local community.)
The pictures below are the ones taken during the 12th tour last year on October 4, 2016.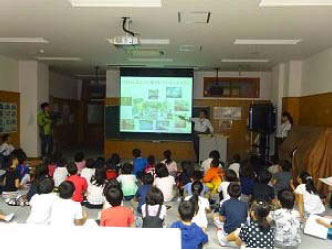 Site tour of planned dam site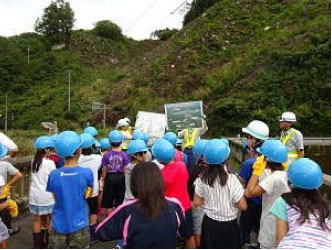 Short lecture in the classroom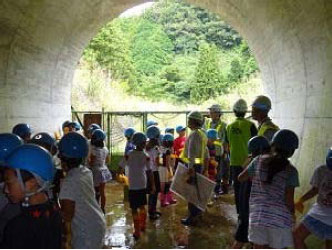 Inside the temporary diversion channel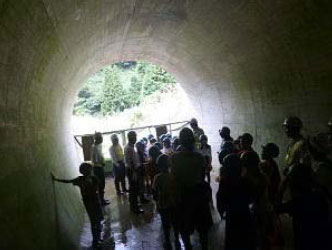 Inside the temporary diversion channel