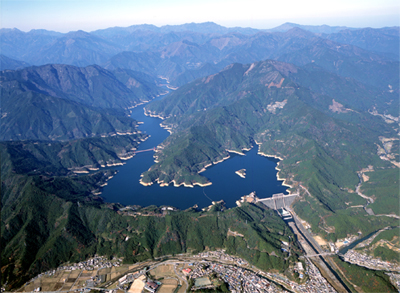 Today, Yahoo! JAPAN-sponsored "
Yahoo! Search Grand Prize 2017
" was released and Key Word for Search "
Sameura Dam Water Storage Rate Real Time (in Japanese)
" was awarded for the Local Category Award-Kagawa Prefecture.
Sameura Dam is one of the dams managed by Japan Water Agency (=JWA) and it is a multi-purpose dam and one of the largest water storage capacity dams located on the upstream of Yoshino River in Kochi Prefecture. As it serves as a very important infrastructure for Shikoku Region, it is called "
Life of Shikoku
".
As Shikoku Region
faced the drought
which caused water intake restrictions during the peak water demand season of summer, we assume concern about
the water storage conditions of Sameura Dam
increased very much. Yahoo! Japan released the result of their analysis, as saying that due to
the effect of Typhoon No. 5
which caused heavy rainfall in Shikoku and Kyushu regions, the real time water storage ratio of Sameura Dam might have been searched quite a lot.
JWA will keep working for the proper management of their facilities such as dams and canals in 7 major river systems across Japan. Sameura Dam area is abundant in rich nature and we would appreciate it if you could come to the dam site and spend your leisure time there.