Now, to follow-up this event, three staff members of JWA went to
Ogoe Elementary School of Kazo City, Saitama Prefecture
and gave a hands-on lesson to their 75 children and 9 children of Ogoshi Kindergarten. The JWA staff brought the salmons and taught them how to hatch out salmon fishes and feed them properly. Those children were expected
to bring home three pieces of salmon roe and hatch them out.
Baby fishes are supposed to be born in about 10 to 15 days.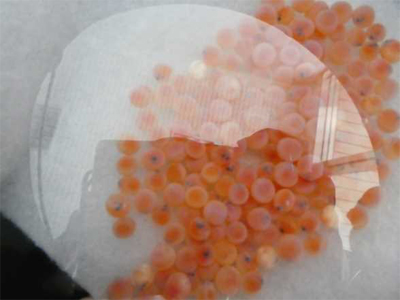 Salmon roes having eyes. Black spots on the roes are eyes.
As tap water contains some antiseptic, they were taught to keep the water out in a container for a day or so before salmon roes are put in it; the container should be kept in a dark room until they get birth; and the water should be replaced once every three days to keep it fresh, etc. One of the school children said that "This is my sixth time to feed the salmon roes. I have learned a lot from this experience. I would like to raise the new-born fishes. I would like to ask for a help from my family." On this day, the similar lessons were given with salmon roe distribution at Murakimi Elementary School of Hanyu City, Saitama Prefecture and Otahigasi Elementary School of Gyoda City, Saitama Prefecture and Kazo Elementary School of Kazo City, Saitama Prefecture.
Those children will surely learn the importance of life through their own feeding. This program has been carried out every year
since 2008
and in February next year,
raised young fishes will be released to Tone River.