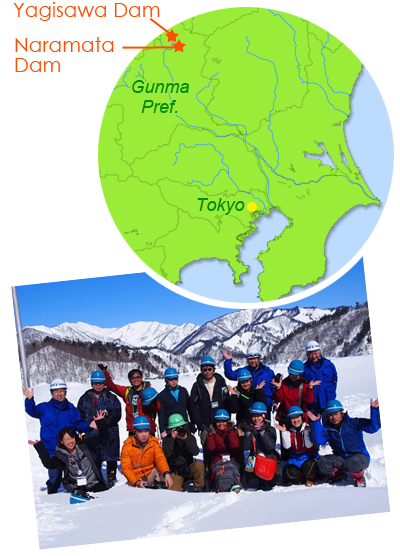 During the winter months, the roads leading to the
Yagisawa Dam
and
Naramata Dam
are normally closed due to heavy snow except for JWA staff. JWA offers
winter public tours
every year for the purpose of
letting more people know about dam management in winter
.
The tours were offered on
February 14th and 15th
this year and many people mainly from the metropolitan area joined. During these tours, participants visited Yagisawa Dam and Naramata Dam and in addition to
the explanation about each dam
, those participants experienced
snowshoes
that were used for daily patrol by JWA staff under the guidance of staff from JWA Numata Dams Integrated Operation and Maintenance Office. According to the participants, including some dam enthusiasts who have visited both dams many times in the past, it was the first experience for them to visit Yagisawa Dam and Naramata Dam in winter. At the moment when the participants watched the mysterious scenery covered with pure white snow from the crest of the dam, they let out an exclamation of admiration. They seemed to
enjoy the fantastic scenery which we cannot usually see quite often
and
the rare experience of snowshoe walking at the crest of the dam covered with deep snow
.
Of course, the scenery of fresh green leaves in spring and red colored leaves in autumn are so beautiful that we can enjoy great views. But winter views at both dams are so special,
we can also enjoy the unique scenery covered with pure white snow and clear and dignified atmosphere in winter in Japan.