Prevention of Saline Damage Due to Dredging and Water Resources Development
With no estuary barrage or dredging in the Nagara River, even when water levels were low the intrusion of saltwater into the river was held back by a relatively high section of the river bed known as "the mound", about 14 to 18 km from the river mouth. However, when the whole river bed has been lowered by dredging operations as planned, the saltwater held back by the mound could possibly intrude further upstream to about 30 km from the river mouth. This would make the water briny in upstream areas that have so far been unaffected, and water taken from the river would no longer be usable. In addition, in the course of time the salt would enter the groundwater and soil in the protected low-lying land, affecting the use of the land for farming. The future uses of such land would be very limited.
With the Nagaragawa Estuary Barrage serving as a sea wall, however, saline damage is prevented, and dredging operations can proceed freely. As the salinity of water upstream of the barrage has decreased, it has now become possible to develop new water resources.
Dredging in the mound section of the river began on the day after the estuary barrage went into operation (July 6, 1995) and was completed in July 1997.
to allow floodwater to drain.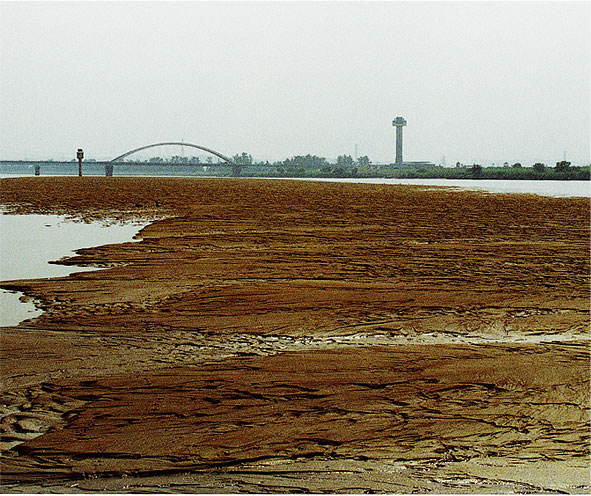 The old mound situated about 14 to 18 km from the river mouth. It used to emerge at low tide during flood tides.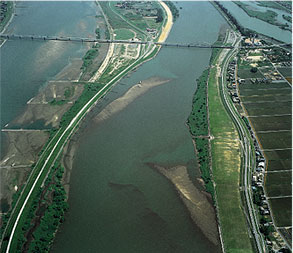 The mound section of the Nagara before dredging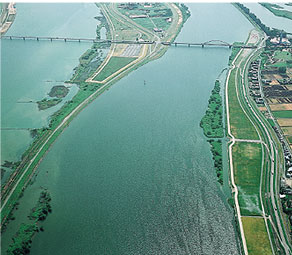 The mound section after dredging (photographed in September 2000)
Dredging of the Nagara River and Prevention of Saltwater Intrusion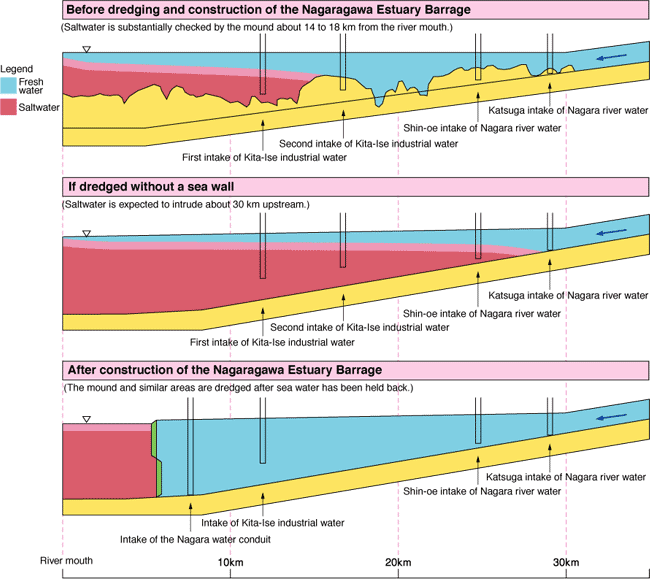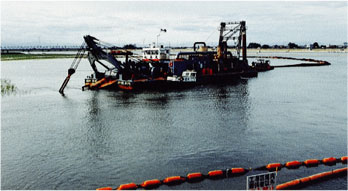 Dredging by suction dredger
*After the barrage went into operation, salinity of water upstream of the barrage began to decrease, and the second intake of Kita-Ise industrial water was removed because it became possible to withdraw the required quantity of water from the first intake alone. The intake of the Nagara water conduit was also constructed.
The dredging section of the Nagara River