Disasters in Recent Years
The Meiji improvement reduced flood damage downstream of the three Kiso rivers considerably. However, the Ise Bay Typhoon, which hit the Tokai district in September 1959, damaged Gifu, Aichi and Mie Prefectures severely, with fatalities numbering more than 5,000, including the missing. In August 1960, a flood resulting from typhoons No. 11 and 12 broke the banks of the Nagara and devastated the river. In June 1961, heavy rain during the rainy season and from Typhoon No. 6 again caused the banks to collapse, and the Nagara River flooded a vast area of Gifu City and Ogaki City. These floods, together with the flood caused by the Ise Bay Typhoon, are known as the three major floods of the Showa period (1926-1988).
More recently, the Nagara River also flooded heavily when Typhoon No. 17 combined with a rain front in September 1976. A week of heavy rain caused severe damage in various regions, including the collapse of the right bank in the area lying beyond Moribe in Anpachi-cho, part of Anpachi-gun in Gifu Prefecture.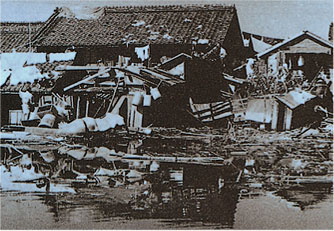 A ruined house (caused by Ise Bay typhoon, Sept. 1959), photo from the "Chunichi" newspaper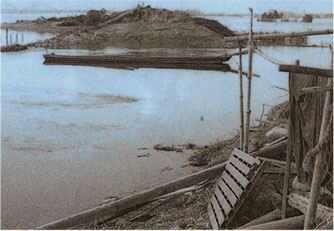 Collapsed bank in the Nagashima ringed land area (caused by Ise Bay Typhoon, Sept. 1959) Photo from the "Chunichi" newspaper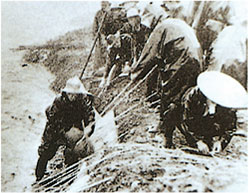 Desperate flood-fighting activities (June 1961), photo from the "Gifu" newspaper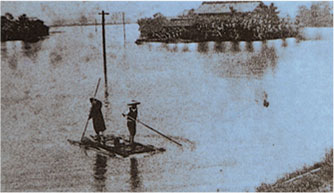 A house isolated by the flood water (Hashima City, Gifu Pref., June 1961), photo from the "Gifu" newspaper