Water Shortages in the Kiso River Water System
The balance between supply and demand of water resources is strongly influenced by weather and other natural conditions. The dams and other water storage facilities in the Kiso river water system were designed, mainly on the basis of data for a period of about twenty years since 1945, to ensure a stable supply of water even in times of water shortage which are expected to occur on average once every ten years. Annual precipitation has been fluctuating greatly and decreasing in recent years. In drought years when river discharge decreases and reservoirs provide increased quantities of water, stable supply of the design quantity is difficult. The supply capacities of reservoirs and other water storage facilities have decreased to about 60% of the design water yield. As rain has tended to be scarce in recent years, Japan is suffering from drought almost every year, with extremely undesirable effects on people's living conditions and economic activity.
Annual precipitation in Kiso river drainage basin in recent years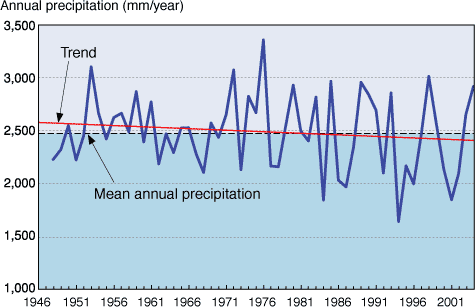 An image of deterioration of water supply capacities of reservoirs and other facilities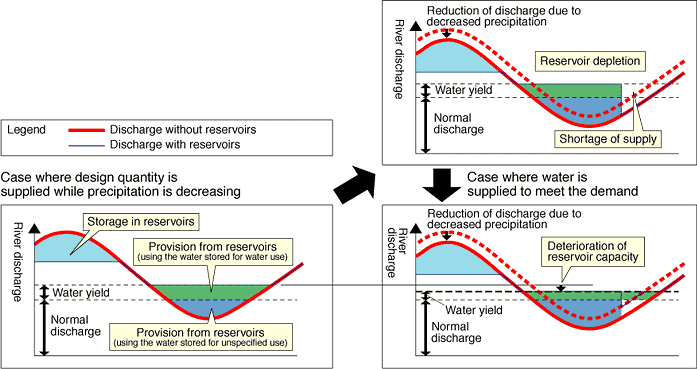 Source: Proceedings of a meeting of Water Resources Development subcommittee at the 4th National Land Council in May 2004
A shortage of water in the summer of 1994 dried up three reservoirs - Makio, Iwaya and Agigawa - and more than 30 million m3 was provided by, for example, a power plant dam to cope with the situation. In the Aichi water zone in particular, the supply of tap water was suspended, with the resulting inconveniences in everyday living conditions. Approximately 5.9 million people in 75 cities, towns and villages to which the Kiso River supplies water were affected. The supply of industrial water was sharply reduced, and about 300 businesses in these areas were forced to curtail production or to stop their production lines. The damage amounted to some ¥30 billion.
Beyond the effects on social and living conditions, as well as economic activity, for local inhabitants, there were also effects on the river's ecosystem, ground water levels and so forth.
Voluntary water saving is excluded.
*Sept. 7 through 12, 2000:
 Integrated operation of three dams (Makio, Agigawa and Misogawa dams)
*June 13 through 20, 2001:
 Integrated operation of four dams (Makio, Agigawa, Misogawa and Iwaya dams)
*June 15 through July 6, 2005:
 Integrated operation of four dams (Makio, Agigawa, Misogawa and Iwaya dams)
*Dec. 22, 2005 through Feb. 27, 2006:
 Integrated operation of three dams (Makio, Agigawa and Misogawa dams)