Message from the president
We promote efficiency of business with the management principle to "provide safe, good-quality water stably and at a reasonable cost for the people".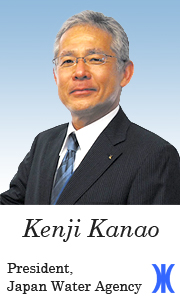 Japan Water Agency (JWA)
, since the time of our predecessor "Water Resources Development Public Corporation", has been committed to supporting an affluent and healthy life for people, utilizing the blessings of water as long as half a century since its establishment. We have been engaged in developing and managing water resources in
seven river systems
, which are involved with the lives of more than half of the nation's population. The water volume developed by JWA accounts for
about 80%
of the above systems, and we manage
about 50 facilities
to supply water stably to metropolitan areas, such as the Tokyo metropolitan area, the Chubu area, the Kinki area, and others. In this way, we have contributed to the lives of the people, and the development of infrastructure for industrial and economic activities.
Since JWA was reorganized as an incorporated administrative agency in
October 2003
, our primary policy has been shifted from the construction of facilities to integrated water recourses management. We intend to work for cost reduction, conservation of the natural environment, maintaining water quality, developing risk management systems, and acting as a bridge to connect water source areas and water consumption areas. We endeavor that our management should be carried out by listening constantly to the needs of water users as our customer, and as people.
With our pride as a group of professionals of water management, by uniting forces of the managements and employees, on our management principle "
Provide safe and high-quality water stably and reasonably for the people
", we will carry it out as our public mission, aiming at more efficient management.
We have been experiencing abnormal weather such as big earthquakes and severe floods recently. Nature may not be as gentle as it once was. When we have rain, it sometimes leads to severe flooding, and conversely dry weather can continues with no rain for long periods. We might face extremely heavy rain or earthquakes which we have never experienced prior. To cope with that, we believe it our mission that we must provide water, which is essential for our national life, stably and at a reasonable cost,
not just in everyday life but also at times of emergency
.
Taking over the works and achievements built up by our predecessors, including former president Komura, we intend to strive to attain our mission further more.
Your kind understanding and continued support will be highly appreciated.
April 2018