Dams, Canals
Chubu Area
Mie Canal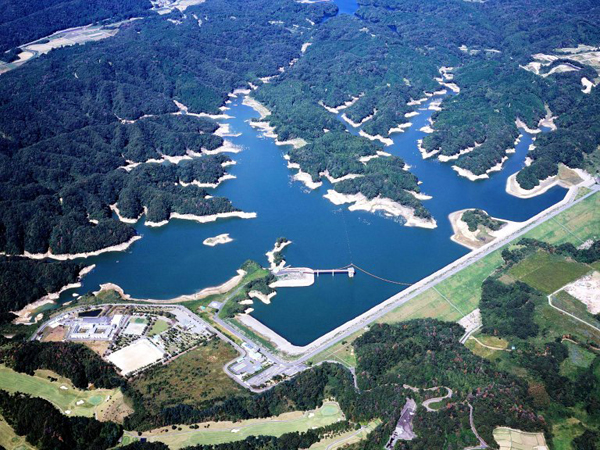 Purpose

1.Irrigation water

Max. intake: approx. 6.0m³/s (Benefited land: approc. 7,300 ha)

2.Domestic water

Max. intake: approx. 0.7m³/s (Water supply population: approx. 532,000)

3.Industrial water

Max. intake: approx. 0.2m³/s (Supply zone: 2 apartment complexes)

Benefited Area

Mie Pref.

Inabe City, Kuwana City, Yokkaichi City, Suzuka City, Komono Town, Toin Town

Facilities
Water source facility:
Nakazato Dam (Effective storage:16 million m³), Indirect Basin Intake Works and Canals (4 spots, Length: approx. 9.4km) Uchiage Regulating Pond (Effective storage 2.2 million m³)
Stream Intake facilities and canals (4 spots, Length=approx. 9.8km)
Main canals (2 canals Length=approx. 59.3km), Regulating Ponds (3 spots, Effective storage 5.4 million m³)
Canals (4 canals Length= approx. 22.6km)
Lateral canals (6 canals Length=approx. 43.5km)
Completion
1992
Details
Construction of Mie Canal was made to supply 7,300 ha of rice paddies spreading over eastern part of Suzuka Mountains in Mie Prefecture with irrigation water, Yokkaichi and other two municipalities with domestic water, and two industrial zones with industrial water. And it was completed in 1992.
Since 2007, JWA has been engaged in the maintenance management project of water resources development facilities and other related facilities to secure the functions of lateral canals which JWA has been entrusting to the Land Improvement Districts.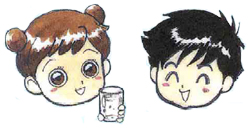 Mie-chan and Yosui-kun
Location
Address

7961-2 Tobikoshi Komono,Komono Town, Mie Pref.

Phone No.

81-593-93-2000
Access
Train
Apprx. 20 min. from Obaneen sta. of Kintetsu Railway Yunoyama Line
Car
Apprx. 20 min. from Yokkaichi IC of Higashi-Meihan Expressway
Tourist Spots
Yoro Waterfall

At the end of the Yoro Park in Yoro Town, there is a waterfall of 4m wide and 30m high. The waterfall gives us a splendid view, but what reminds us when we hear the name of this waterfall is the name of the pub chain named the same, i.e. Yoro no Taki. Based upon the story of this fall water having changed to SAKE (wine), the pub chain took the name of this fall and named their pub. This pub chain is now enjoys good business. Is't it funny?


Mt. Gozaisho

Mt. Gozaisho is one of the 200 famous mountains in Japan, located west of Yokkaichi City. Mie Prefecture. The peak of this mountain (1212m) and the hot springs resort of Yunoyama Hot Spring are connected with a Ropeway and you will see a wonderfull view of Ise Bay and the hot spring resort area from the top. This mountain boasts of the beautiful autumn colors and pink/scarlet colored azeleas in May as well as various strangely shaped large rocks. The ropeway is crowded with skiers in winter.

Events
Coming soon