Dams, Canals
Chubu Area
Nagara Canal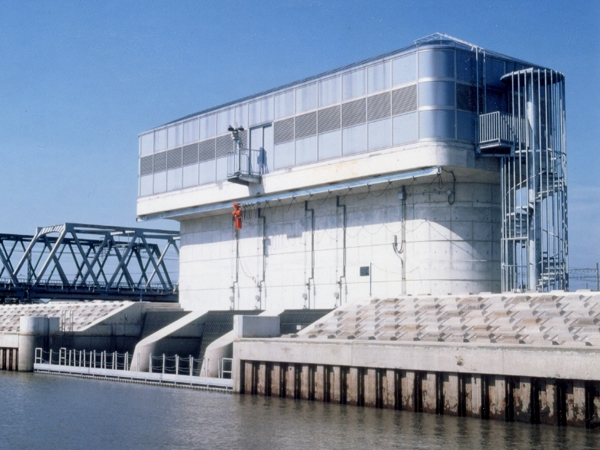 Purpose

Domestic water

Max. intake: approx. 3m³/s (Water supply population: approx. 440,000)

Benefited Area

Aichi Pref.

Handa City, Tokoname City, Tokai City, Chita City, Agui Town, Higashiura Town, Minamichita Town,Mihama Town, Taketoyo Town

Facilities

Water intake facilities (Intake Works)

Installed culverts (4.6m wide X 3.8m high, 3 in parallel, Length= approx. 78m)
Sluice pipe (2.8m wide X 3.8m high, 3 in parallel, Length= approx 39m)
Junction well ( pipe 1,350 mm in diameter, Length= approx. 20m)
Fish entry prevention equipment

Canal (pipe canal Length= approx. 4.8km)

Completion
1997
Details
Nagara Canal is the facility to intake max. amount of 2.86m³/s of flowing water which became available at Nagaragawa Estuary Barrage thanks to the Nagaragawa Estuary Barrage project as part of the Kiso River system water resources development plan and then convey to Yatomi Pumping Station which is run by Aichi Prefectural Government. The purpose of this project was to supply domestic water to Chita Region of Aichi Prefecture and construction was complete in 1997 and the management operations started in April 1998.

Mizuharu, Mizuri and Mizuzo
Location
Address

Kuwana City, Mie Pref.

Phone No.

+81-594-42-5671

Fax No.

+81-594-42-5674
*Kisogawa Canal Integrated Operation and maintenance Office
Access
Train
Apprx.10 min. by walking from Nagashima sta. of JR Kansai Main Line or Kintetsu Railway Nagoya Line
Tourist Spots
Wajyu no Sato/Kaizu Town Historical Folklore Museum

Three major rivers (Kiso River, Ibi River and Nagara River) are running down toward Ise Bay and there are many small lowland areas of zero meter above sea level surrounded by those main rivers. Each community built the high levees around the community to prote their individual lowland from the possible flood. This is the start of "Wajyu", literally meaning surroundings in a circle. The history dates back to Edo Period, as floods ocurred frequently during the flood season from June to October. Those two museums display the equipment and tools for the ways to prevent the flood attack and many convenient items to efficiently live in those communities. It is worthwhile to visit and learn with your own eys how peole struggled to beat the flood.

Events
Coming soon