Dams, Canals
Chubu Area
Nagaragawa Estuary Barrage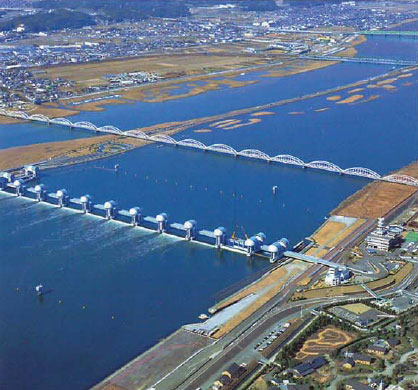 Purpose
FWI

*

See more -> the functions of the dam
Location
Kuwana City, Mie Pref.

*

See more
River
Nagara River, Kiso River System
Type
Movable barrage
Gate
Shell structure double roller gate
Crest Length(m)
661(Movablesection:555)
Completion
1995
Details
All the gates of Nagaragawa Estuary Barrage employ shell structure double roller gates. This structure enables the barrage to conduct the overflow operation that let the river water pass over the gates and the underflow operation that let the river water pass under the gates as well. Both operations can be done at each gate.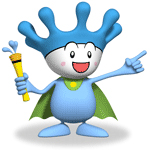 Akkun
Location
Address

Kuwana City, Mie Pref.

Phone No.

+81-594-42-5012
*Nagaragawa Estuary Barrage Operation and Maintenance Office
Access
Car
Apprx. 7 min. from Nagashima IC of Higashi-Meihan Expressway
Apprx. 10 min. from Wangan-Nagashima IC of Isewangan Expressway
Apprx. 15 min. from Kiso Sansen National Government Park
Dam Card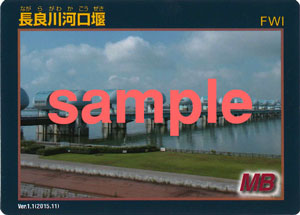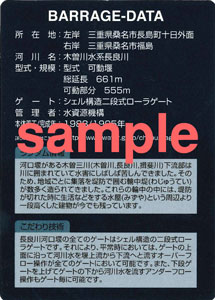 Award
Tourist Spots
Wajyu no Sato/Kaizu Town Historical Folklore Museum

Three major rivers (Kiso River, Ibi River and Nagara River) are running down toward Ise Bay and there are many small lowland areas of zero meter above sea level surrounded by those main rivers. Each community built the high levees around the community to prote their individual lowland from the possible flood. This is the start of "Wajyu", literally meaning surroundings in a circle. The history dates back to Edo Period, as floods ocurred frequently during the flood season from June to October. Those two museums display the equipment and tools for the ways to prevent the flood attack and many convenient items to efficiently live in those communities. It is worthwhile to visit and learn with your own eys how peole struggled to beat the flood.

Events
Coming soon