Dams, Canals
Kanto Area
Akigase Barrage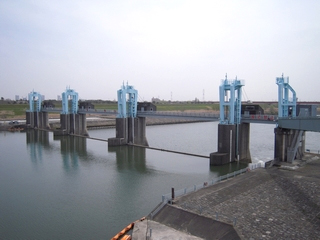 Purpose

1.Domestic water

Max. intake: approx. 42m³/s

2.Industrial water

Max. intake: approx. 2m³/s

3.Purification water

Max. intake: approx. 23m³/s (upper limit of 30m³/s)

Benefited Area

Tokyo MP.

Shinagawa-ku, Ota-ku, Chiyoda-ku, Minato-ku, Chuo-ku, Shinjyuku-ku, Suginami-ku, Toshima-ku, Nerima-ku, Itabashi-ku, Shibuya-ku, Meguro-ku, Setagaya-ku, Taito-ku, Bunkyo-ku, Nakano-ku, Kita-ku, Arakawa-ku, Kokubunji City, Koganei City, Kunitachi City, Fuchu City, Inagi City, Tama City, Higashikurume City, Kiyose City, Nishitokyo City, Hino City, Komae City, Tachikawa City, Kodaira City, Machida City, Higashimurayama City, Hachioji City, Chofu City, Mitaka City, Higashiyamato City (18 ku's and 19 cities.)

Saitama Pref.

Kawaguchi City, Toda City, Warabi City, Asaka City, Shiki City, Niiza City, Fujimino City, Wako City, Tokorozawa City, Fujimi City, Kawagoe City, Sayama City, Iruma City, Hanno City, Saitama City (except Iwatsuki-ku), Higashimatsuyama City, Hidaka City, sakato City, Tsurugashima City, Miyoshi Town, Kawajima Town, Hatoyama Town, Namegawa Town, Moro Town, Ogose Town, Tokigawa Town (19 Cities and 8 Towns)

Facilities
Akigase Barrage Intake Barrage (Entire Barrage: Length: approx. 127m, Gate: one gate of 10m X 6.1m, three gates of 34m x 6.4m)
Main canal (Sluice: 6 sluices of 6.0m X3.68m, Canal: 2 parallel channel of 4.5m X4.5m, its total length- approx. 1.6km)
Exclusive water use canal (Length=approx. 360m, No.1 sediment pond :43.2m X 130m, No.2 sediment pond:67m X160m)
Purification canal (Length=approx. 230m)
Completion
1967 (Tone Canal Construction Project)
1982 (Asaka Canal Reconstruction Project)
Details
Construction of both Akigase Barrage Intake Barrage facility and Asaka Canal facility was made as part of comprehensive development plan of Tone River system resources. The project covered the water intake for Tokyo's urban water for 29,824m³/s and for Saitama Prefecture for 14,335m³/s as well as conveyance of purification water for Sumida River of 23.4m³/s.
Mizuki-chan
Location
Address

Shiki City, Saitama Pref.

Phone No.

+81-48-471-3583

FAX No.

+81-48-487-1043
*Tone Canal Management and Construction Office
Access
Train and car
Approx.15 min. by bus and Approx.5 min. by walking from JR Urawa sta.
Approx.10 min. by bus and Approx.5 min. by walking from Nakaurawa sta. of JR Saikyo Line
Tourist Spots
Akigase Park

Akigase Barrage is located on the right bank of

Ara River

, but Akigase Park is located on the left bank on the riverbed. It was organized as a kind of urban city park and

opened to the public in 1971

. It covers 100ha of space, consisting of

ball game stadiums, tennis courts and many playgrounds for children

. To make use of the original green (tree/bush) areas, this park provides local and nearby residents with

leisure site

. On the southern edge, this park is also connected with

SAKURASO Park, i.e. Primrose park

. The central part of this park is the natural conservation ground of a large space of

natural primrose colony

. In spring, a lot of primrose seekers visit this park and stroll through Akigase Park as well.


Saiko Reservoir and Doman Green Park

On the southern side of the above

Sakuraso (Primrose) Park, Doman Green Park

is connected over

Kamo River

. This park has 38 ha of park zone surrounding the flood control regulating reservoir named "

Saiko

".

Cycling and service road

along the edge of the reservoir is suited for bike ride and a lot of bike riders are seen on weekends as this is close to the starting point of bike trail on the bank of Ara River toward Forest Park in Namegawa Town. Unfortunately accessibility to this park and Akigase Park is not good as they are rather far away from the railway route. The bus service is available from

Musashiurawa and Urawa stations

.

Events
Toda Marathon in Saiko, Retarding basin [3rd Sunday of November]

This Toda Marathon is a well known marathon match and is held every year. This event was selected as

one of the 100 nationwide running competition

. Participants can pick up the best matched running length out of half-marathos, 10km, 5km, and 2km suited to participant's condition.