Dams, Canals
Kanto Area
Boso Canal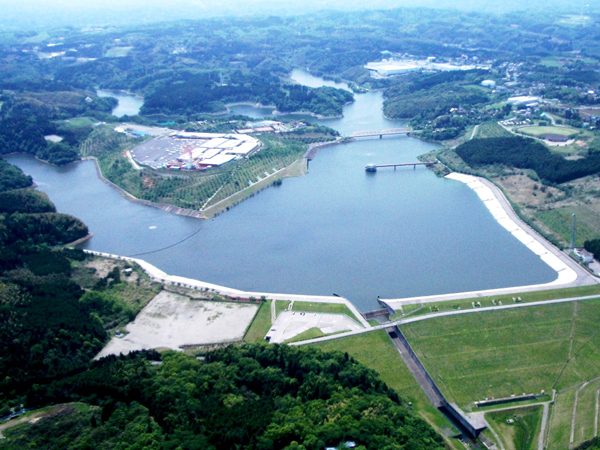 Purpose

1.Industrial water

Max. 3.500m³/s

2.Domestic water

Max. 4.900m³/s

Benefited Area

Chiba Pref.

Chiba City, Ichikawa City, Funabashi City, Matsudo City, Narashino City, Kamagaya City, Urayasu City, Narita City, Inzai City, Siroi City, Ichihara City, Sodegaura City, Kisarazu City, Kimitsu City, Sakura City, Mobara City, Togane City, Katsuura City, Kamogawa City, Tateyama City, Isumi City, Sosa City, Minamiboso City, Sanmu City, Ooamishirasato City, Yokoshibahikari City, Kujyukuri Town, Shirako Town, Nagara Town, Chosei Village, Chonan Town, Ichinomiya Town, Mutsuzawa Town, Otaki Town, Onjyuku Town, Kyonan Town

Facilities

Both north and south canals' common facilities

Tone River Intake Works (Max. approx. 17m³/s), No.1 Canal 1.2km, north main canal 7.5km (Max 17m³/s), pumping station: 1 spot, Kuriyama River use 23.1km (Max approx. 17m³/s) Regulating Weir: 1 spot,

Boso Canal-main faciities

Canal 35.1km (Max. approx. 13m³/s), Pumping Station: 3 spots, Diversion Works: 1 spot, Nagara Dam, Togane Dam, Sakata Regulating pond

Minamiboso canal facilities:

Canal 31.8km (Max. approx. 1m³/s), Pumping Station: 1 spot,

Common operations

Operation and Maintenance Office: 1 office, Solar power generation equipment: 1 unit (Max. 50kw)

Completion
2004
Details
Boso Canal was constructed to supply Chiba coastal industrial belt along Tokyo Bay from Chiba City to Kimitsu City and their surrounding areas with industrial water and Chiba City, Kujyukuri coastal area and southern Boso area with domestic water, and its management operation started in April 2005, with the water sources from Naramata Dam and others.
Canal water is taken from the right bank of Tone River at Ryoso Canal No.1 Pumping station in Sawara area, Katori City, Chiba Prefecture with max. water intake of 17.47m³/s. Then water runs through about 32km of Ryoso Canal common use facilities, about 35km of Boso Canal's basic canal facilities and approx. 31km of Minamiboso Canal facilities to reach the destination.

Inbacchi-kun
Location
Address

Oamishirasato City, Chiba Pref.

Phone No.

+81-475-72-4121
*Chiba Regional Water Control and Management Office / Boso Canal
Access
Train and car
Approx.20 min. by walking from Oami sta. of JR Sotobo Line
Tourist Spots
Tokyo Water Science Museum

This museum is located about 10 minute walk from Kokusaitenjijyo Station near Big Site Exhibition Hall in Yumenoshima Island.To celebrate 100th water works service history, Tokyo municipal government opened this museum in 1997 at

Yumenoshima Island

. The entire facility is dedicated for the hands-on

learning of water

and how it is delivered, including the explanation of equipment and numerous facilities which make it possible to deliver safe and clean water to Tokyo. Your kids will be thrilled to learn the valuable lessons through such hands-on experiments and other experiences.


Photo by "Tokyo Water Science Museum" HP

See more ->

Tokyo Water Science Museum

Namikiri Fudo Temple

Allegedly built in early Edo period, the main building of the temple stands on the cliff and

is suppoted by 26 columns

. As it was built on the cliff in the middle stage of the hill, overlooking the Pacific Ocean far away, it stands out in

deep red color

from far distance. Like Kasamori Kannon Temple building, this is also a good viewing spot for visitors, aside frrom praying.


Kasamori Kannon Temple

Built in 1028, main temple hall building stands atop

a large rock with overhanging scaffoldings boasts

of its unique only-one structure. This all-sides hanging on the cliff shape attracts many visitors.

Events
Oguri Hangan Festival [Beginning of December]

This festival started in 1989 re-enacting

a legend of Oguri Hangan

in Kyowa district.
At the site, traditional arts are performed such as a sacred music and dance called "

Oguri Daidai Kagura

", which is an intangible folk cultural asset of Chiba Prefecture, and "Chigyo Yagibushi" dance. Refreshment booths and farm stands are also set up.

The highlight of the festival is

the Samurai warrior parade

, which is like a gorgeous picture scroll of Warring States period. "

Oguri Hangan

" dressed in a Samurai costume on horseback and princess "

Teruhime

" riding on a court carriage are followed by 200 people dressed as maids, four heavenly kings, ten braves, and children samurai, rolling on Nihari Station road.


Ring Ring Festa - Cycling in Kasumigaura, Tsukuba [Middle of October]

This event is held to encourage more cyclists to come to the Kasumigaura and Mt. Tsukuba area. During this event,

free rental bikes and cruise ships transportation services

are provided for the convenience of the cyclists to load the bikes to cut short of part of the bike trails or even enjoy the cruise with their bikes on the ship. Bicycle makers also provide

trial bike ride opportunities for adults

and

bycycle riding classes for children

, too. Some shows are also staged.


Ayumi Festival [On 16 August every year]

This festival has its origin in the festival of

Ayumizaki Kannon (Buddhist deity of mercy)

. It begins from the annual ceremony of exhibiting the Buddhist image, then are followed by various events such as dances and musical performances on stage, performance of

Hobiki Bune boats

, which uses their sails with the wind to draw their nets, and

fireworks over the lake

. Many people visits the festival where agricultural and fishery products are sold and/or distributed, and many refreshment booths are set up.