Dams, Canals
Kanto Area
Gunma Canal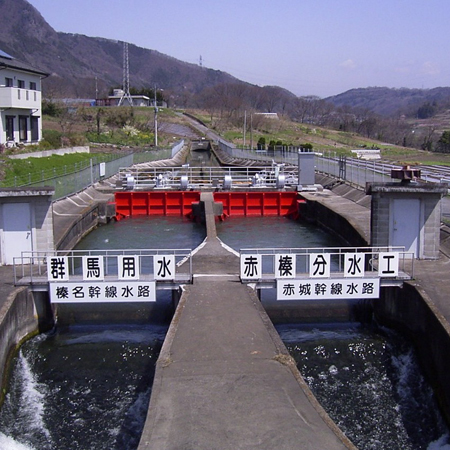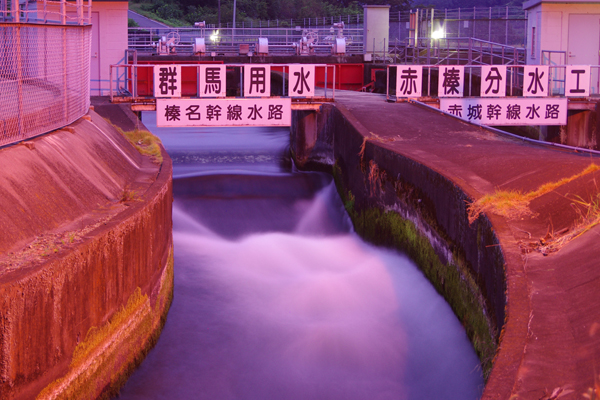 Purpose

1. Irrigational water

Max. intake: approx. 12m³/s (Benefited land: approx. 6,300ha)

2. Domestic water

Max. intake: approx. 4m³/s (Supply water to 8 cities that have the population of approx. 1million)

Benefited Area

Gunma Pref.

Maebashi City, Takasaki City, Shibukawa City, Kiryu City, Yoshioka Town, Shinto Village, Isesaki City, and Tamamura Town

Facilities
Water Intake Works (Two Roller Gates, max. intake amount approx. 17m³/s) Main canal (approx. 4.0km), Sekishin Diversion Works, Ramp (approx. 7.8km), Preliminary Intake Works (2 Roller gates, max. water intake amount 11.67m³/s),Channel (approx. 1.6km), Pumping Facility (6 facilities, water conveyance pipe: approx 10.2km), Primary canal (Akagi Primary Canal: approx. 32.0km, Haruna Primary Canal: approx. 16.4km) Lateral canals (8 canals: approx. 20.6km), Solar power generation facility: 3 places.
Completion
1969
Details
Water source areas of Gunma Canal are Yagisawa Dam and Naramata Dam, and its canal water is used for irrigation for the farmland of approx. 6,300ha on the hillside of Mt. Akagi and Mt. Haruna and also for domestic water for 7 municipalities such as Maebashi City. Canal management started in April 1970 and the above domestic water supply started in 1982. Canal water is taken at the right bank of Tone River at Iwamoto District of Numata City with max. water intake of 16.734m³/s, then after running for approx. 4km at Sekishin Diversion Works, the water is divided into Akagi Main Canal and Haruna Main Canal, then via respective sluices, and pumping stations, the water is delivered.


See more

The Brochure [720KB]

Fu-chan
Location
Address

Maebashi City, Gunma Pref.

Phone No.

+81-27-251-4266

Fax No.

+81-27-254-2634
*Gunma Canal Operation and Maintenance Office
Access
Train
Apprx.15 min. by walking from Shin-Maebashi sta. of JR Joetsu Line, JR Ryomo Line and JR Agatsuma Line
Tourist Spots
Mt. Akagi

Gunma Canal is flowing at the southern foot of

Mt. Akagi

. Mt. Akagi is actually the mountain ranges with Mt. Kurobi as the highest peak. Close to the top, there is a

lake named Onuma

(literally "Large Pond"). Along this lake on the hillside of the surrounding mountains there is

a large community of azaleas

, which attract visitors and hikers with

their beautiful red and pink colored blossoms in early June

and

red-colored autumn leaves in October

. As there are many trekking trails in this mountain resort area, one day downhill trekking will be agreat fun for your family as the Lake area is

easily connected with a convenient road from Maebashi

, Capital city of Gunma Prefecture.


Mt. Harua and Ikaho Hot Springs

Gunma Canal, after diverting, runs from north to south along the foot of

Mt. Haruna

. Mt. Haruna presents beautiful

Haruna Lake

and

Haruna-Fuji (Crator Cone)

connected with

a ropeway

to its top. The view from the top of the crator cone is spectacular. And on the hillside of the mountain is a famous mountain hot spring resort named

Ikaho-Onsen

. This hot spring resort is well known among hot-spring goers because of enjoyable stroll on the stairways with lots of small amusement houses on both sides and hot spring bath house on the way. There are many traditional Japanese style hot spring inns and contemporary hotels in this resort.


Mizusawa Kannon Temple

On the foot of Mt. Haruna is

Mizusawa Kannon temple

, which has the history of

over 1000 years

. The temple holds many traditional wooden structures, including the large entrance gate, the main hall, the bell tower, and

the hexagonal two-storied pagoda

. Those are mostly designated important cultural properties. In addition, what makes this temple famous is "

Mizusawa Udon

", local noodle soup, made from the locally-made wheat. So have fun eating noodle soup at one of the local noodle restaurant and soaking yourself into a hot spring bath and satisfy your appetite and relaxation desire.

Events
Coming soon