Dams, Canals
Kanto Area
Hokuso-tobu Canal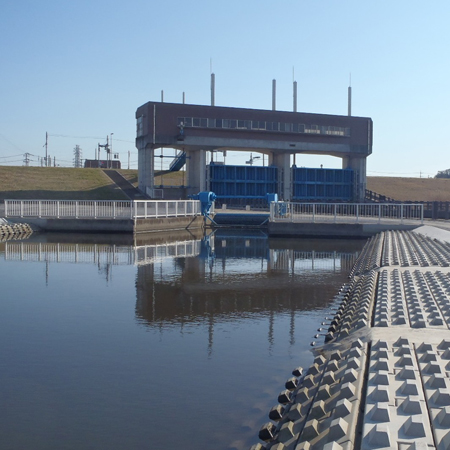 Purpose

Irrigation water

Max. intake: Approx. 8m³/s (Benefited land: Approx. 8,400ha)

Benefited Area

Chiba Pref.

Katori City, sousa City, Asahi City, Narita City, Tako Town, Tounosho Town, Kouzaki Town, Chiba City, Sakura City, Tougane City, Yachimata City, Tomisato City, Sanmu City

Facilities
Intake Facility (Headrace Length: Approx. 0.9km, Funato Pumping Station)
Pumping Facility (Kayata Pumping Station, Tsukumozuka Pumping Station)
Main Canal (5 canals Length= approx. 41.6km)
Pressure Pumping Station and Farm Pond (24 points)
Lateral Canal (4 canals, approx. 8.8km)
Completion
1980
Details
The construction of Hokuso-tobu Canal was made to supply 7.53m³/s of irrigation water sourcing from Tonegawa Estuary Barrage and Kasumigaura Lake to 8,404 ha of farmland (consisting of 2,732 ha of rice paddies and 5,672 ha of dry fields) spreading from the central part to the northeastern part of Chiba Prefecture. Since its management start in April 1981, JWA has been conducting efficient management operations.

Inbacchi-kun
Location
Address

Katori City, Chiba Pref.

Phone No.

+81-478-54-2235

Fax No.

+81-478-54-4490
*Chiba Canal Integrated Operation and Maintenance Office
Access
Train and car
Approx.10 min. by car from Sawara sta. of JR Narita Line
Tourist Spots
Katori City (Sawara Area)

Known as

small EDO (Capital City of Japan in Feudal Edo period)

, Sawara Area attracts visitors with its cosy streets with old-fashioned houses. In the central city area, there is the former house of Tadataka Inou. He is well known as the person who made the first map of Japan with a modern technics. He spent 3,736 daysmaking measurements and travelled 34,913 km, walking through the costal lines and finally created the huge map of Japan in 1821.


Katori (Shinto) Shrine

Katori (Shinto) Shrine, No. 1 shrine of Shimosa Province of Chiba Prefecture, provide you with tranquil atmoshere which makes you feel calm and relaxed.

Events
The Big Float festival of Sawara
[Summer: Three days (Fri. Sat. and Sun.) after 10 July]
[Autumn: Three days (Fri. Sat. and Sun.) centered on 2nd Sat. of October]

This festival of Sawara is well known as

the parade of decorative floats on which big historical character dolls of 5m high are built

. All the floats are decorated with carvings of famous sculptors of the days of the past (

in Edo to early Showa Period

) and the dolls made by also a well-known doll-creating artists. When such decorative and gorgeous floats are pulled by the local people, some music performers sitting or standing on the narrow stage furnished in the middle part of the floats play joyful and spirit-raising music. Procession of the floats along the traditionally furnished rows of shops on both sides of the main street gives the spectators nostlgic moment of old days.