Dams, Canals
Kanto Area
Hokuso-tobu Canal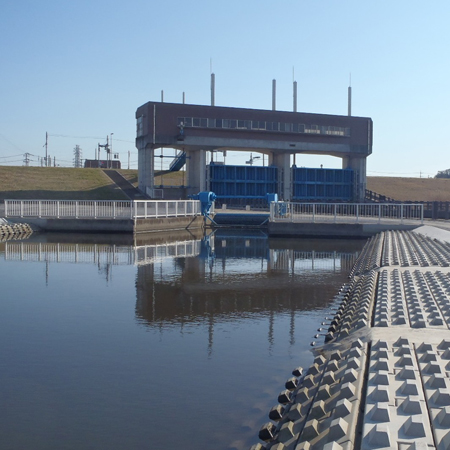 Purpose

Irrigation water

Max. intake: Approx. 7.53m³/s (Benefited land: Approx. 8,400ha)

Benefited Area

Chiba Pref.

Katori City, sousa City, Asahi City, Narita City, Tako Town, Tounosho Town, Kouzaki Town, Chiba City, Sakura City, Tougane City, Yachimata City, Tomisato City, Sanmu City

Facilities
Intake Facility (Headrace Length: Approx. 0.9km, Funato Pumping Station)
Pumping Facility (Kayata Pumping Station, Tsukumozuka Pumping Station)
Main Canal (5 canals Length= approx. 41.6km)
Pressure Pumping Station and Farm Pond (24 points)
Lateral Canal (4 canals, approx. 8.8km)
Completion
1980
Details
The construction of Hokuso-tobu Canal was made to supply 7.53m³/s of irrigation water sourcing from Tonegawa Estuary Barrage and Kasumigaura Lake to 8,404 ha of farmland (consisting of 2,732 ha of rice paddies and 5,672 ha of dry fields) spreading from the central part to the northeastern part of Chiba Prefecture. Since its management start in April 1981, JWA has been conducting efficient management operations.

Inbacchi-kun
Location
Address

3076 Sawarai, Katori City, Chiba Pref.

Phone No.

81-478-54-2235

Fax No.

81-478-54-4490
Access
Train and car
Apprx.10 min. by car from Sawara sta. of JR Narita Line
Tourist Spots
Coming soon
Events
Coming soon