Dams, Canals
Kanto Area
Narita Canal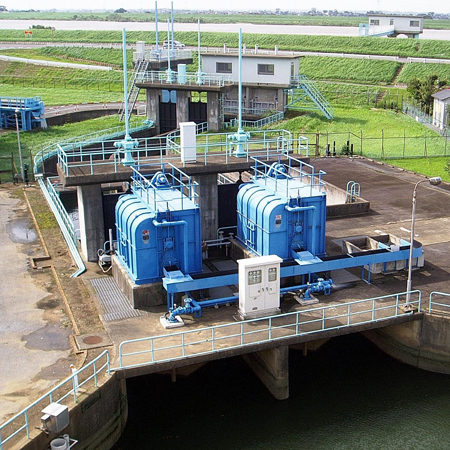 Purpose

Irrigation water

Max. intake: approx. 3m³/s (Benefited land: 3,300ha)

Benefited Area

Chiba Pref.

Narita City, Tako Town, Yokoshibahikari Town, Shibayama Town

Facilities
Intake: Sluice gate: 2.8m (wide) X 2.3m (high), Control gate: 2 gates, both base with steel pipe pile
Canal: max. 3.25m³/s, Length: 32.2km, Diameter 1.350-350mm, Shinkawa Pumping Station, Koizumi Pumping Station-Pressure pumping stations at 4 points
Completion
1980
Details
Based on the Exceptional Finance Law related to the construction of New Tokyo International Airport, water supply was required for the farmland for 3,327 ha (1,889ha of rice paddies and 1,438 ha of dry fields) within the designated noise area. To supply 3.25m³/s of irrigation water sourced from Kawaji Dam, Narita Canal was constructed and JWA has been conducting the effective operation and management since the start of management in April 1981.

Inbacchi-kun
Location
Address

Katori City, Chiba Pref.

Phone No.

+81-478-54-2235

Fax No.

+81-478-54-4490
*Chiba Canal Integrated Operation and Maintenance Office
Access
Train and car
Approx.10 min. by car from Sawara sta. of JR Narita Line
Tourist Spots
Narita-san Shinshoji Temple

Narita-san Shinshoji Temple is said to date back to

940A.D.

It has the vast precincts for 200,000m² and adjacent Narita Park of 165,000m² combined, it has 360,000m² space. As this temple was not so far from the Tokugawa Shogunate headquarters, it was nourished by them in various ways. In addition, a famous theatrical Kabuki player named

Ichikawa Danjyuro

was a famous devotee of this temple and he named his housename after Narita, the temple became quite famous among worshippers starting in Edo period. With an array of souvenir shops and Japanese food restaurants, mostly specialized in

grilled eel (Unagi)

on the way to the entrance gate, which is about 10 minutes walk from

Narita Station

, Narita-san Shinshoji Temple invites a lot of visitors, mostly worshippers from across Kanto Region and from the overseas, too. Especially during the first three days of new year, the number of visitors to the temple reaches

about 3 million

and

ranks 2nd

among all the temples and shrines in Japan.


Museum of Aeronautical Sciences

Museum of Aeronautical Sciences

is located adjacent to

the Tokyo International Airport (Narita)

and is accessible by bus. This museum has an extensive collections of various data and publications related to

the aeronautical sciences, air flights, and aircrafts

.

Mock-ups of cabin, cockpit, cross-section of aircraft, etc.

are on display.

Events
"Setubun-e", a traditional ceremony of the end of winter and welcoming the coming of spring at Naritasan Shinshoji Temple [3 February]

Narita-san Shinshoji Temple is one of the most attractive worshippers' spots for Kanto Region as shown on the Tourist Spot section on this website. As in Japan the official day of the change of season from severe winter to balmy spring is very important, the temple highly regards this day an important day to conduct the luck-inviting ritual named "

Mamemaki

" literally meaning throwing handfuls of beans and shouting "

Demons out! Good luck in!

" At this temple,

some famous cerebrities

such as the famous actors and actresses of NHK (public TV) Series of drams and Sumo wreslers are invited to come up to the designated stage where they perform beans throwing ritual, wishing the national security, people's hapiness, rich harvest, and bad luck turing to become good fortune for all the people.