Dams, Canals
Kanto Area
Saitama Goguchi Stage II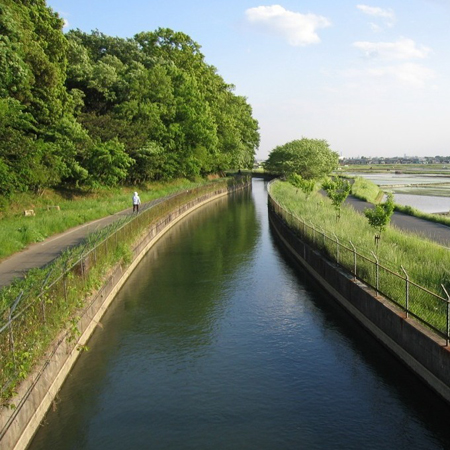 Purpose

1.Irrigation water

Max. intake: approx. 38m³/s (Benefited land: approx. 11,340ha)

2.Domestic water

Max. intake: approx. 4m³/s ( Water supply population: approx. 1million)

Benefited Area

Saitama Pref.

Gyoda City, Hanyu City, Kazo City, Konosu City, Kuki City, Hasuda City, Okegawa City, Saitama City, Koshigaya City, Kasukabe City, Shiraoka City, Ageo City, Ina Town, Miyashiro Town

Facilities
Basic Main canal:
(Open canal Length: approx. 31.5km, Siphon length: approx. 370m, Regulating weir: 9, Diversion works:84)
Main canal, etc.
(5 Lines Length=approx. 44.2km, Regulating weir:14, Sluice, etc .:107, Suedasuga Weir)
Completion
1994
Details
The facilities related to Saitama Goguchi Stage II consist of Basic Main Canal 1 (Hoshi River zone), Basic Main Canal 2, Higashiberi Main Canal, Nishiberi Main Canal, Ara River Connection Water Canal, Kisairyo Canal, Nakajima Canal, and Sueda- suga Weir, etc. Management started from April 1995 for the purpose of intake, conveyance and supply of water that became available after rationalization of irrigation water and its stable water supply to Tokyo Metropolitan and Saitama Prefecture.
Mizuki-chan
Location
Address

Gyoda City, Saitama Pref.

Phone No.

+81-48-557-1501

FAX No.

+81-48-557-1506
*Tone Canal Management and Construction Office
Access
Train and car
Approx.25 min. by taxi from Kitakounosu sta. or Fukiage sta. of JR Takasaki Line
Approx.15 min. by taxi from Hanyu sta. of Tobu Railway Isesaki Line
Tourist Spots
Minuma dai Canal Motoiri Park

Minuma dai Canal Motoiri Park was constructed in 1977 in memory of Yasobei Izawa, the developer of Minuma dai Canal in 1828. Within a short period of time this canal was completed, extending for 80km. In Edo period, rice was the staple food and the richness of the feudal lord's territory was measured by the amount of rice harvest. As it was an urgent need for the Tokugawa Shogunate Government to increase the rice harvest and for that purpose, water supply for irrigation of the rice field was a crucialfactor. So 8th Shogun Yoshimume ordered Mr. Izawa to build the canal rather urgently. To answer to this order, he constructed this canal, which contributed to the huge expansion of rice fields in Kanto Plain.

Sakitama Ancient Burial Mounds

Many burial mounds of the heads of the region were built from 5th through 7th century in Japan. What is unique to this ground is that there are eight such ancient burial mounds scattered around rather small area in the flat land somewhat away from a large river. Adjacent to some of the mounds, there is Museum of The Sakitama Ancient Burial Mounds, where some of the discoveries from the mounds are on display. A famous discovery is the sword with letters engraved. This engraving depicts the year of 471A.D., supposedly the oldest sword excavated from the ruin.

Events
Releasing firefly larvae at part of Minumadai Canal [Summer]
- Related with JWA -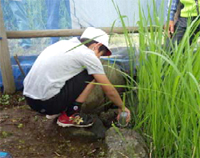 Rice fields by the sides of Minuma dai Canal in Minuma-Ward, Saitama Prefecture is called "

Minuma Rice Field

" and used to be well known for

fireflies observation

in summer. But

since 1950s

, the number of fireflies decreased drastically year by year due to the water quality degradation caused by the urbanization of the area and finally no fireflies are seen now.

From 2009

, related organizations jointly started the measures to improve the conservation of natural environment with the use of water from Minumadai Canal.

To judge the improvement condition

, they have been utilizing the fireflies as a barometer because they can

only live on pure water environment

.