Dams, Canals
Kanto Area
Toso Canal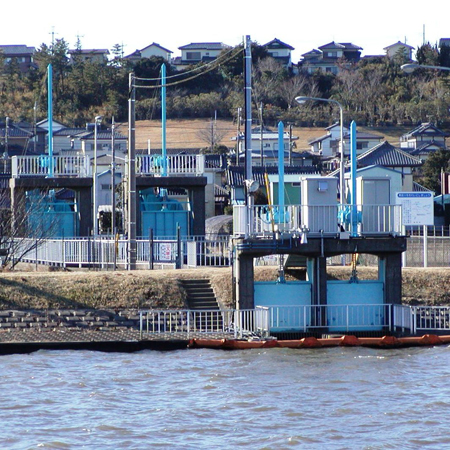 Purpose

1.Irrigation water

Max. intake: approx. 2.24m³/s (Benefited land: approx. 2,800 ha)

2.Domestic water

Max. intake: approx. 1.32m³/s (Water supply population: approx. 200,000)

Benefited Area

Chiba Pref.

Choshi City, Asahi City, Tonosho Town

Facilities
Tone River Intake Facilities (Ichinowakeme Intake Works,Ichinowakeme Pumping Station)
Kurobe River Intake Facilities [Sasagawa Intake Works, Canal (Length= approx. 850m), Tonosho Pumping Station. Unakami Pressure Pumping Station, Regulating Tank Connection Chanel(Length: approx. 12.5km), Iioka Regulating Tank]
Water Conveyance Facility [Main canal (Length=Approx. 8.2km), Lateral canal (Length= approx. 15.5km), Farm Pond (18 spots) Operation Equipment, etc.]
Completion
1988
Details
Toso Canal was constructed for the purpose of supplying 2,800 ha of farmland covering 2 cities and one town in the surrounding areas located in the north-eastern part of Chiba Prefecture with max. 2.24m³/s of irrigation water developed in Naramata Dam and Kasumigaura area under Kasumigaura Development project and also with max. 1.32m³/s of domestic water developed in Naramata Dam, Kasumigaura Development, Kasumigaura Canal, Tonegawa Estuary Barrage and reservoirs of Kurobe River. Its construction was complete in 1988 and its management started in April 1989.

Inbacchi-kun
Location
Address

81 Sasagawaro, Tonosho Town, Katori Gun, Chiba Pref.

Phone No.

81-478-86-1311

Fax No.

81-478-86-1314
Access
Train and car
Apprx.7 min. by car from Sasagawa sta. of JR Narita Line
Tourist Spots
Coming soon
Events
Coming soon