Dams, Canals
Kanto Area
Toso Canal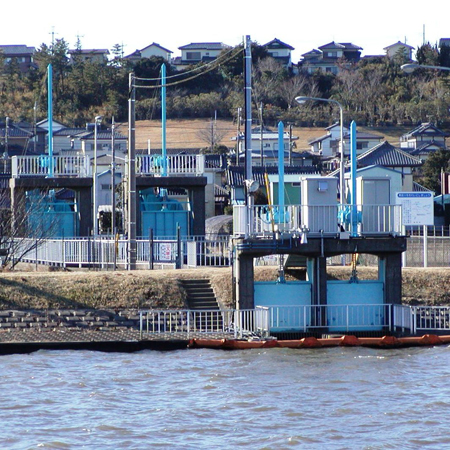 Purpose

1.Irrigation water

Max. intake: approx. 2m³/s (Benefited land: approx. 2,800 ha)

2.Domestic water

Max. intake: approx. 1m³/s (Water supply population: approx. 200,000)

Benefited Area

Chiba Pref.

Choshi City, Asahi City, Tohnosho Town

Facilities
Tone River Intake Facilities (Ichinowakeme Intake Works,Ichinowakeme Pumping Station)
Kurobe River Intake Facilities [Sasagawa Intake Works, Canal (Length= approx. 850m), Tonosho Pumping Station. Unakami Pressure Pumping Station, Regulating Tank Connection Chanel(Length: approx. 12.5km), Iioka Regulating Tank]
Water Conveyance Facility [Main canal (Length=Approx. 8.2km), Lateral canal (Length= approx. 15.5km), Farm Pond (18 spots) Operation Equipment, etc.]
Completion
1988
Details
Toso Canal was constructed for the purpose of supplying 2,800 ha of farmland covering 2 cities and one town in the surrounding areas located in the north-eastern part of Chiba Prefecture with max. 2.24m³/s of irrigation water developed in Naramata Dam and Kasumigaura area under Kasumigaura Development project and also with max. 1.32m³/s of domestic water developed in Naramata Dam, Kasumigaura Development, Kasumigaura Canal, Tonegawa Estuary Barrage and reservoirs of Kurobe River. Its construction was complete in 1988 and its management started in April 1989.

Inbacchi-kun
Location
Address

Tohnosho Town, Katori Gun, Chiba Pref.

Phone No.

+81-478-86-1311

Fax No.

+81-478-86-1314
*Chiba Canal Integrated Operation and Maintenance Office
Access
Train and car
Approx.7 min. by car from Sasagawa sta. of JR Narita Line
Tourist Spots
Strawberry picking

Toso Canal runs through

Tohnosho Town

. Making use of relatively warm weather in winter, farmers are growing

strawberries in greenhouses

in this town. As they are in season starting

early January

, many families drop in on one of those greenhouses and have fun time picking up and eat ripe strawberries there.

Events
Sasagawa Sumo Festival (held at the time of Autumn Festival of Suwa Shrine) [Last Sat. of July]

Sasagawa Sumo Festival has a long history, dating back to

Edo Period

when a local story named "

Tenpo Suikoden

" about the long territorial battles between the two major Yakuza Groups was really taking place. On the day of the event,

various sumo matches

such as group matches, tournament matches, and major ranking class matches are held among child sumo players and some representative players from Japanese Self-Defence Forces, stationing near-by. On this day,

a parade of some floats and portable shrines

supported by local people are also made and the festival lasts until around 10:00 pm.