Dams, Canals
Kanto Area
Shimokubo Dam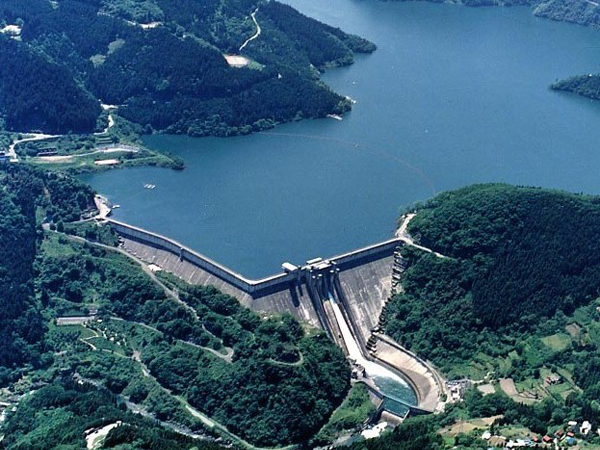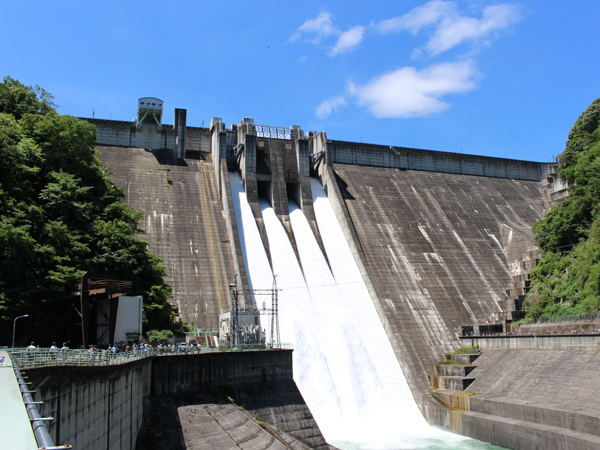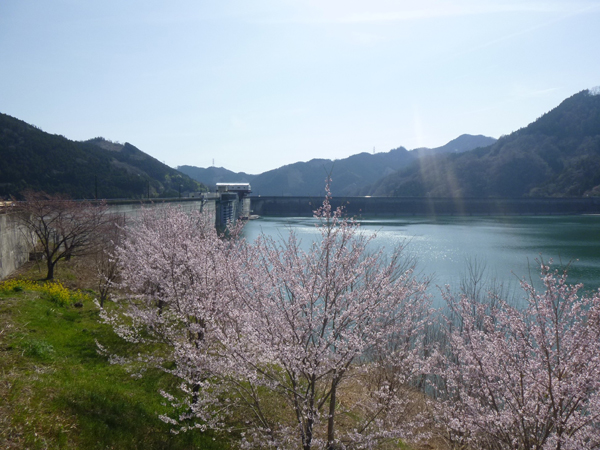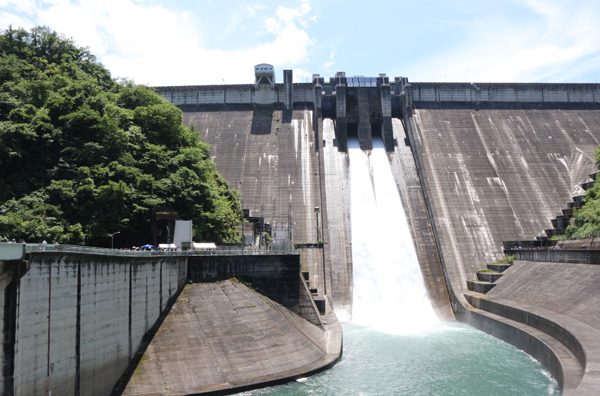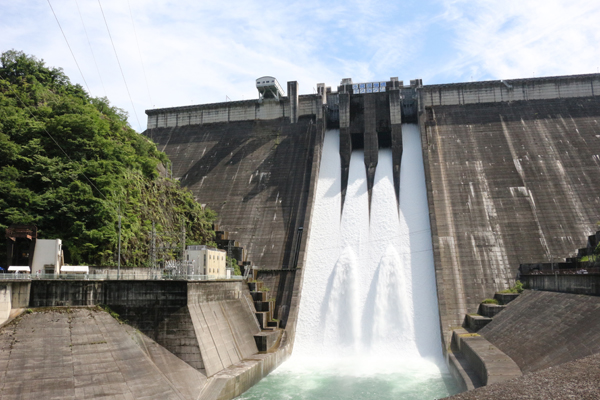 Purpose
FNWIP

*

See more -> the functions of the dam
Location
Fujioka City, Gunma Pref. / Kamikawa Town, Kodama Gun, Saitama Pref.


*

See more
River
Kanna River, Tone River System
Type
Concrete gravity dam
Gate
Radial gate:2
Tainter gate:2
Dam Height(m)
129
Crest Length(m)
605
Total Storage
(1,000m³)
130,000
Completion
1969
Details
The L-shaped dam body was constructed by using the 13.5t class travelling jib crane for the first time in Japan.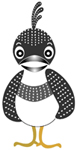 Kawasemi-kun
Location
Address

Kamikawa Town, Saitama Pref.

Phone No.

+81-274-52-2746
*Shimokubo Dam Operation and Maintenance Office
Access
Train and Bus
Approx.60 min. by bus from Shinmachi sta. of JR Takasaki Line
Approx.40 min. by bus from Gunma-Fujioka sta. of JR Hachiko Line
Car
Approx.40 min. from Honjo-Kodama IC of Kan-Etsu Expressway
Approx.40 min. from Fujioka IC of Joshin'etsu Expressway
Dam Card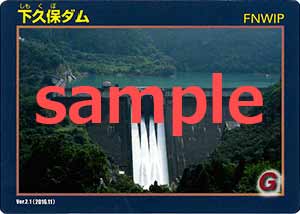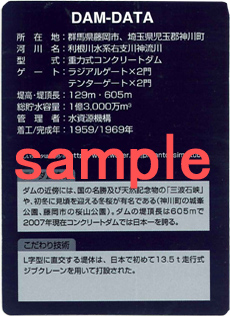 Award
Tourist Spots
Jyomine Park

On the southern side of Shimokubo Dam is Jyomine Park. This top-of -the hill park welcomes the visitors in automn for autumn colors of different types of leaves. Maple color hanges turning to red is especially beautiful in autumn. This park is also well known for the winter cherries that get in full gloom twice in spring and late autumn to early winter.


Kanna Lake

Kanna Lake is Shimokubo Dam reservoir. People come to this lake for fishing, boat rowing during three seasons except for winter and enjoy nice scenery there.

Sanbaseki Ravine

The downstream side of Shimokubo Dam for 1.3km is called Sanbaseki Ravine as the combination of clear flowing water and huge and odd shaped green and white marbled rocks constitute unique landscaping. Medium sized rocks of tuff and chlorite stone combinatione are ideal for landscaping for traditional Japanese gardens.


Sakurayama Park

Up north of Shimokubo Dam/Kanna Lake, there is Sakurayama Park. Sakurayama means Cherry blossom Mountain. As name stands, almost all of the slopes on all sides are trees of winter Cherry. So just like those of Jyomine Park, people can enjoy two cherry seasons in spring and early winter.
Gourmet Information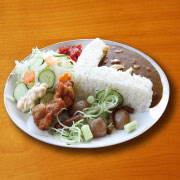 Shimokubo Dam Curry and Rice
This dish symbolizes the discharge from the bulb and Sanbaseki Ravine with locally grown vegetables.
¥800 (excluding tax)
Roadside station "Joshu Onishi"
Address

1089-2 Yuzurihara, Fujioka City, Gunma Pref.

Phone No.

+81-274-52-3300

Open

11:00-17:00

Closed

on Tue.
Shimokubo Dam Curry and Rice
Michi no Oasis Kamiizumi
Address

110 Shimoaguhara, Kamikawa Town, Saitama Pref.

Phone No.

+81-274-52-3332

Open

9:00-18:00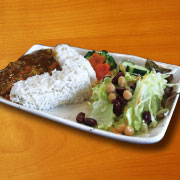 Shimokubo Dam Curry and Rice
Salad with beans on the plate imitates Sanbaseki Ravine;
broccoli symbolizes Sakurayama Park;
carrots give the image of winter cherry blossoms
¥750 (excluding tax)
Information Onishi & Oni Cafe
Address

152-1 Onishi, Fujioka City, Gunma Pref.

Phone No.

+81-50-1195-8916

Open

8:00-17:00

Closed

on Wed.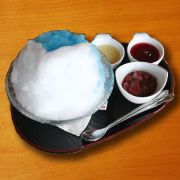 Shimokubo Dam Shaved ice with syrup
Served with blueberries grown under full organic farming
¥600 (excluding tax)
Tsukamoto Organic Blueberry Farm
Address

1188-2 Joboji, Fujioka City, Gunma Pref.

Phone No.

+81-274-52-5832

Open

from July to September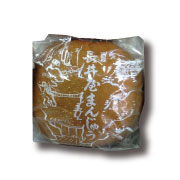 Nagaiya "Manju"
Wrapping design includes Shimokubo Dam and its name.
This design has been used for over 45 years, immediately after the dam completion.
¥60 (excluding tax)
Nagaiya Confectonery
Address

846-2 Sakahara, Fujioka City, Gunma Pref.

Phone No.

+81-274-56-0017

Open

6:00- until being sold out

Closed

on Tue.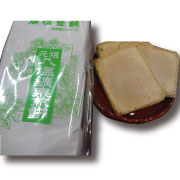 Original Yashio Mineral Spring Cracker
Mineral water of Yashio Spring is used.
Please find Shimokubo Dam on the front of the craker.
¥500 (excluding tax) *a set of 15 pieces
Aburaya (Head Office)
Address

99-7 Onishi, Fujioka City, Gunma Pref.

Phone No.

+81-274-52-2174

Open

7:30-19:00 on Weekdays / 7:30-14:00 on Sun.
*Prices and ingredients may change.
Events
Kanna Carp Streamers Fesitval
[End of April through beginning of May]

The festival

started in May 1981

when two hundred carp streamers were raised afloat on two wire ropes across over the Kanna River. Year by year the number of wire ropes has been increasd and

now 800 carp streamers

are on display since 1986. It is a fantasitic view that 800 colorful carp streamers are raised afloat and

looked like they were swimming in the sky

. In October 1986 this display was awarded for

home-town making award of Gunma Prefecture

and in March 1987 awarded as the best award for

national home-town making prize

.


"Naked Men Festival" of Ariuji Shrine [19 November]

It is called "

Naked Men Festival

", but in reality men are naked except for their loincloth, jist like the appearabce of Japanes SUMO Wreslers. On the festive day, right after the shrine ritual, participating men appears in

just plain white loinclothes and headbands

, holding the plate on which

festive red rice

is placed. When the timing is mature, they starts spreading around the rice. It is considered very lucky when such small piece of red rice

hits your body or you just eat them

and you can escape the evil spirit and/or disaster of the year. A pregnant woman can expect safe and easy baby delivery. This has now become a good photo shooting scene.