Dams, Canals
Kanto Area
Tonegawa Estuary Barrage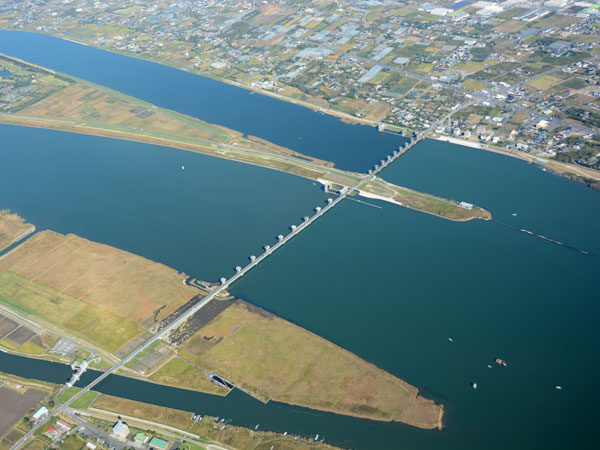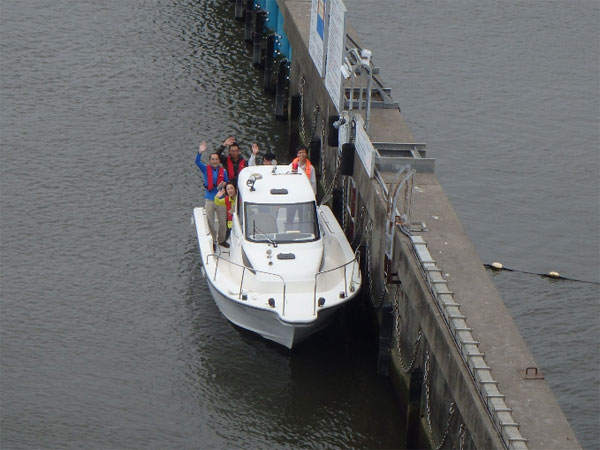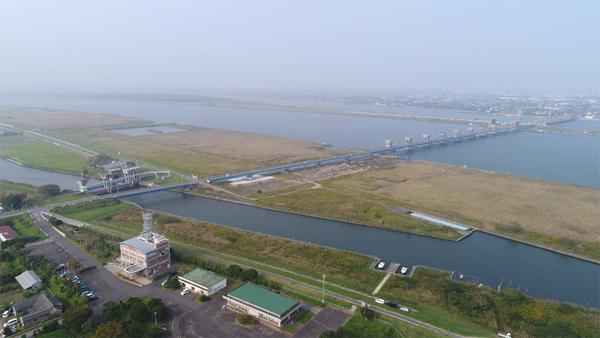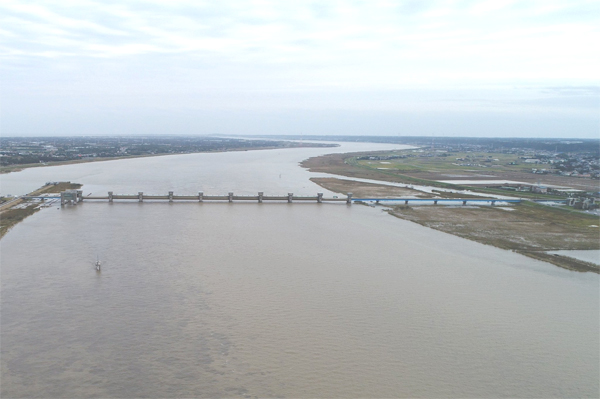 Purpose
NAWI

*

See more -> the functions of the dam
Location
Kamisu City, Ibaragi Pref. / Tohnosho Town, Katori Gun, Chiba Pref.


*

See more
River
Tone River, Tone River System
Type
Movable barrage
Gate
Single roller gate
Dual roller gate
Crest Length(m)
834(Movablesection:465)
Completion
1971
Details
The purposes of Tone estuary barrage are salinity control and water supply. To conserve the aquatic resources, sea water is conducted upward and brackish water zone is formed at the upstream side of the barrage by operating the gates. The seawater is taken within a range in which it does not affect the water supply.

Location
Address

Tohnosho Town, Katori-Gun, Chiba Pref.,

Phone No.

+81-478-86-0477
*Tonegawa Karyu Integrated Operation and Maintenance Office
Access
Highway bus
Bus tarminal:Tokyo station Yaesu exit in front of Mizuho Bank
Bound for Choshi (Both Omigawa route and Sawara route)
Approx.110 min. (Omigawa route) Approx.120 min. (Sawara route)
Train
JR Soubu Line from Tokyo sta. to Chiba sta. and Narita Line from Chiba sta. to Shimousa Tachibana sta.
Approx.180 min. from Tokyo sta. (local train)
Car
Approx.40 min. from Sawara-Katori IC of Higashi-Kanto Expressway
Dam Card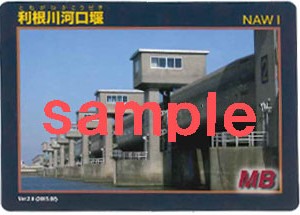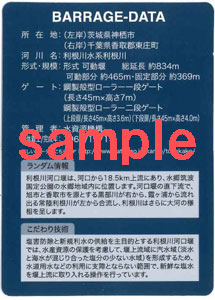 Tourist Spots
Katori City (Sawara Area)

Known as

small EDO (Capital City of Japan in Feudal Edo period)

, Sawara Area attracts visitors with its cozy streets with old-fashioned houses. In the central city area, there is the former house of Tadataka Inou. He is well known as the person who made the first map of Japan with a modern technique. He spent 3,736 days making measurements and travelled 34,913 km, walking through the costal lines and finally created the huge map of Japan in 1821.


Choshi City

Situated at far eastern end of Kanto Plain facing the Pacific Ocean, this city attracts many fish cuisine lovers. As both the Kuril Current and the Black Current meet ashore, the city boasts of large amount of fish catch, consisting of wide range of fish types. There are many fresh fish restaurants and a famous light house named

Inubosaki Light House

situated here.


Katori (Shinto) Shrine

Katori (Shinto) Shrine, No. 1 shrine of Shimousa Province of Chiba Prefecture, provides you with tranquil atmosphere which makes you feel calm and relaxed.

Events
Sasagawa Sumo Festival (held at the time of Autumn Festival of Suwa Shrine) [Last Sat. of July]

Sasagawa Sumo Festival has a long history, dating back to

Edo Period

when a local story named "

Tenpo Suikoden

" about the long territorial battles between the two major Yakuza Groups was really taking place. On the day of the event,

various sumo matches

such as group matches, tournament matches, and major ranking class matches are held among child sumo players and some representative players from Japanese Self-Defence Forces, stationing near-by. On this day,

a parade of some floats and portable shrines

supported by local people are also made and the festival lasts until around 10:00 pm.