Dams, Canals
Kansai Area
Lake Biwa Development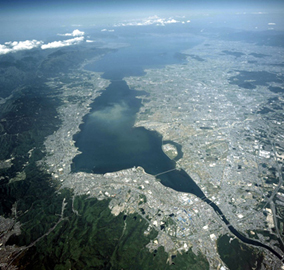 Purpose
FWI

*

See more -> the functions of the dam
Location
10 municipalities, Shiga Pref.

*

See more
River
121 Rivers, Lake Biwa System.
Gate
Roller gate:12
Jet Flow gate:1
Flap gate:3
Crest Length(m)
235
Total Storage
(1,000m³)
27,500,000
Completion
1997
Details
Lake Biwa Development was a project where lake banks, service roads, and drainage behind levee facilities were built, and Seta River overfall weir was reformed. The project reduces the downstream flood damage and supplies domestic and industrial water in the area of Osaka and Hyogo Pref. In the project, various measures were taken to alleviate the influence on the surrounding.
Location
Address

Otsu City, Shiga Pref.

Phone No.

+81-7-574-0680
*Lake Biwa Development Integrated Operation and Maintenance Office
Access
Train
Approx.15 min. by walking from Katata sta. of JR Kosei Line
Award
Tourist Spots

Events
Coming soon