Dams, Canals
Northern Kyushu Area
Fukuoka Canal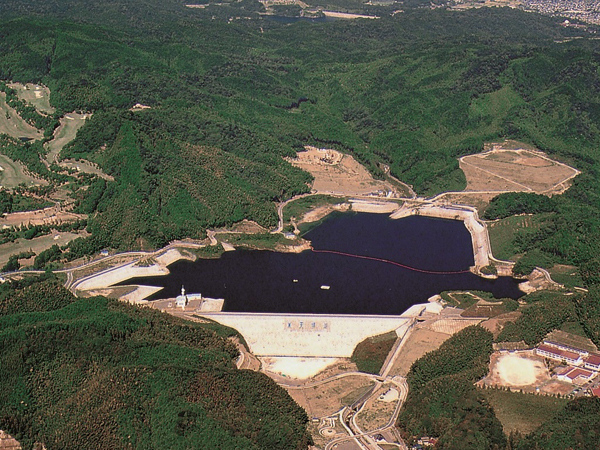 Purpose

Domestic water

Max. intake: approx. 3m³/s (Estimated water supply population :2.38 million)

Benefited Area

Fukuoka Pref.

Fukuoka City, Onojyo City, Chikushino City, Munakata City, Dazaifu City, Itoshima City, Koga City ,fukutu City, Kasuga City, Umi Town, sime Town, sue Toen, Kasuya Town, Sasguri Town Shingu Town, Nakagawa Town

Saga Pref.

Kiyama Town

Facilities
Water intake facilities (Intake Works:1 spot, Pumping Station: 1 spot)
Canal facilities (Pipeline Length= 14.5km, Tunnel Length= approx. 10km)
Regulating pond facility (Bank height:60m, Effective storage capacity 3,900,000m³, pumping station:1 spot)
Completion
2012
Details
Fukuoka Canal serves max. 2.767m³/s of domestic water to 16 municipalities (9 cities and 7 towns) in Fukuoka metropolitan zone and Kiyama Town of Saga Prefecture after taking water at the intake in the reservoir area of Chikugo Barrage, which collects water from Egawa Dam, Terauchi Dam, Gosho Dam and Oyama Dam.
Location
Address

Kurume City, Fukuoka Pref.

Phone No.

+81-942-39-4311
*Kyusyu Regional Office
Address:Kurume City, Fukuoka Pref.
Phone No.:+81-942-34-7001
Access
Train
Approx.10 min. by walking from Miyanojin sta. of Nishi-Nippon Railroad Tenjin-Omuta Line
Car
Approx.10 min. from Kyushu Exptressway Kurume IC
Tourist Spots
Shojiro Ishibashi Memorial Museum

Located in Kurume City, north-easten city from the barrage, this museum was erected in memory of Shojiro Ishibashi, the founder of

Bridgestone Corporation

, manufacturer of tyres of different varieties and related products. The museum displays the history of the corporation and related items about Mr. Ishibashi and also some of his art collections.


Koura Taisha Shrine

This is

No.1 shrine of Chikugo Region of Kyushu

and has many designated important cultural properties such as the main shrine buiding and stone-built entrance gate to the shrine. This shrine is situated in the middle of the mountain and

Minou Skyline road

connected to the shrine will take you to the observation spot where you can enjoy the panoramic view of Chikugo River adn Chikugo Plain.

Yoshinogari Historical Park (Ruins)

A little west from the barrage, Yoshinogari Ruins are located. This area represents

the typical Yayoi Period (4th Century B.C. to 5th Century A.D.) culture

and in this park of

over 100ha displays various excavated articles

, including earthware and stoneware, restored houses and warehouses, and some restored tombs of Yayoi Period, too. It is a good place to get familialize yourself with the life of Yayoi Era through hands-on experience.


Yanagawa City (Central area)

Facing Ariake Sea on the south-western part of the city and two Class A rivers of Chikugo River and Yabe River running,

the central Yanagawa district is networked with moats

. Before automobiles and trucks became the major means of transportation, the boat was the important means of transportation and that was why this city had a great advantages over other cities thanks to the network of moats and this city was called the city built on water.

The boat cruise

offers a pleasure in viewing the changing scenery of traditional style of houses, gardens and bridges along the moat by small boat.


Chikugo Disaster Management Facility "Kurume-house"

This facility, located at the merging point of Chikugo River and its tributary Koura Rive in Kurume City, was originally built as the facility to store the disaster management materials and to provide related information in 2003. But it has the function to

serve the community as the water museum

. With the display of disaster informaton for

1953 water hazard

, you can learn thedister prevention and the river environment. Local fish spices are also on display.

Events
Coming soon