Dams, Canals
Shikoku Area
Ikeda Dam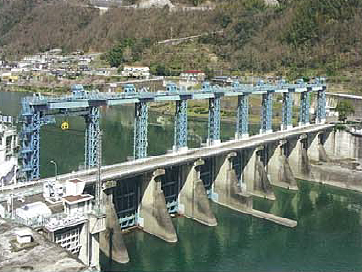 Purpose
FNAWIP

*

See more -> the functions of the dam
Location
Ikeda City, Tokushima Pref.

*

See more
River
Yoshino River, Yoshino River System
Type
Concrete gravity dam
Gate
Roller gate:9
Dam Height(m)
24
Crest Length(m)
247
Total Storage
(1,000m³)
12,650
Completion
1974
Details
Ikeda Dam has a stepped fishway whose total length is 164.75m, maximum drop is 11.5m and slope angle of 1:14.3. The entrance of the fishway is located at an outlet of hydraulic power station to guide fishes to the fishway. The flowrate of the fishway is set for easiest run-ups of sweet fishes and other fishes as well.
Location
Address

Miyoshi City, Tokushima Pref.

Phone No.

+81-883-72-2050
*Ikeda Integrated Operation and Maintenance Office
Access
Train
Approx.5 min. by car or Approx.30 min. by walk from JR Dosan Line and Tokushima Line Awa-Ikeda sta.
Car
Approx.5 min. from Tokushima Expressway Ikawa-Ikeda IC
Dam Card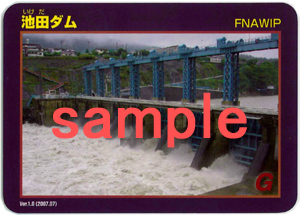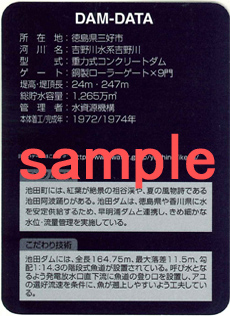 Tourist Spots
Iya Valley

Iya region is located far deeper western part of Tokushima Prefecture. This region used to be one of the regions far remote and hard to access in the mountain. Some improvement has been made in recent years, but this area is still called the Iya Valley region because of the hard accessibility. Because of this situation, the original natural beauty, including some historic vine bridges and the remote local village life are still maintained and this is why it has become the tourist destination among remote retreat seekers.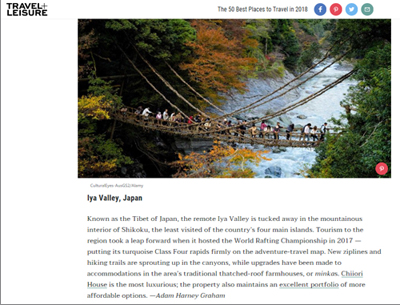 December 05, 2017
Iya Valley is the only place in Japan to have ever been elected by the travel magazine TRAVEL+LEISURE for "The 50 Best Places to Travel in 2018".
See more ->
Travel+Leisure
Events
Coming soon