Dams, Canals
Shikoku Area
Shingu Dam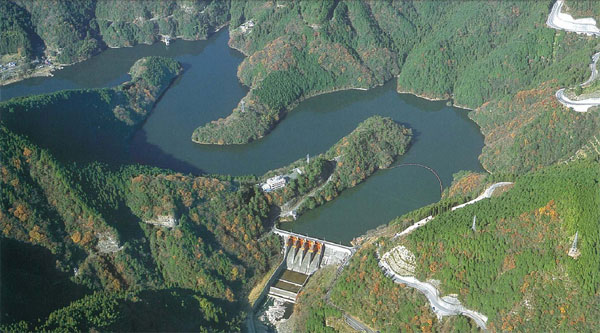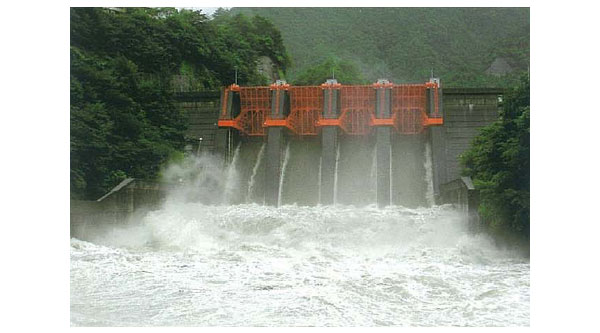 Purpose
FAIP

*

See more -> the functions of the dam
Location
Shikokuchuo City, Ehime Pref.

*

See more
River
Dozan River, Yoshino River System
Type
Concrete gravity dam
Gate
Radial gate:4
Dam Height(m)
42
Crest Length(m)
138
Total Storage
(1,000m³)
13,000
Completion
1974
Details
The thyristor leonard control method, which was latest at that time, was adopted to control the speed of a cable crane that conveyed dam concrete. In addition, the belt press filter dehydrator was adopted for the first time in Japan to treat turbid water discharged from the aggregate plant.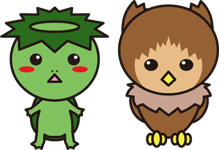 Shin-chan and Gu-chan
Location
Address

Shikokuchuo City, Ehime Pref.

Phone No.

+81-896-72-2021
*Ikeda Integrated Operation and Maintenance Office
Address:Miyoshi City, Tokushima Pref.
Phone No.:+81-883-72-2050
Access
Train
Approx.30 min. by car from JR Yosan Line Kawanoe sta. or Iyo-Mishima sta.
Car
Approx.15 min. from Kochi Expressway Shingu IC
Dam Card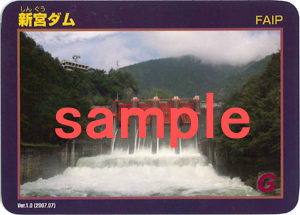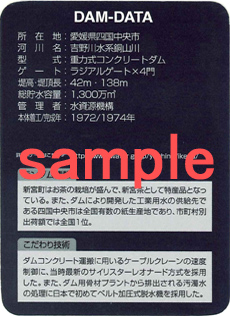 Tourist Spots
Matsuyama Castle

Two major tourst attractions of Matsuyama City, the capital city of Ehime Prefecture, are

Matsuyama Castle

and

Dogo Hot Spring

. A low mountain is in the center of Matsuyama City and wa selected for the site for Matsuyama Castle. So this castle stands on the summit of that mountain. Originally constructed in 1627, the castle consists of three-storied donjon (tower) and other structures surrounded by stone walls (called "Ishigaki"), eight traditional entrance gates and the moat surrounding the foot of the mountain. Offering a beautiful view of the central part of the city, the castle attracts lots of tourists and the residents of local and nearby towns all the year round.


Dogo Onsen (Dogo Hot Spring)

Being close to the foot of the moutain where the castle stands and being connected with the shopping arcade is the famous

"Dogo Onsen" (Dogo Hot Spring)

. As soaking in a soothing hot spring bath is the great fun for typical Japanese people, this natural hot spring is the symbol of leisure spot. Holding a vestige of good old days, the 3-tiered "Sanso-Ro" Dogo Onsen wooden building structure houses different types of baths provided, one is just soaking yourself in the bath and others, relaxing in Japanse Yukata bathrobe and relaxing on the second floor after the bath with tea and a sweet cake. By whichever case you choose, you can feel a typical Japanese way of relaxation.

*
Shingu Dam is located between Takamatsu City and Matsuyama City. Matsuyama City is located over 40km away and is about an hour plus car ride from the dam.
Events
Coming soon