Kagawa Canal Memorial Hall new building is now open.
4 September, 2017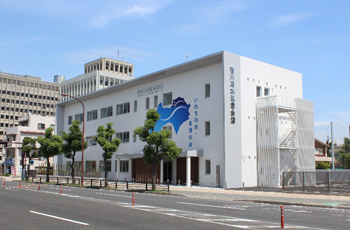 Newly rebuilt Kagawa Canal Memorial Hall building is now open onthe main street near Kagawa prefectural government building in Takamatsu City, Kagawa Prefecture.
As the old building aged, this new hall was built and opened in July this year at a much convenient location for visitors. On the first floor of this newly built Kagawa Memorial Hall building, there is the Kagawa Canal Information Center and Archives, where history and the present status of Kagawa Canal are introduced with audio and visual presentations, including the drone flight pictures of the canal, projection mappings, canal model, etc. This works as the archives for the reference books and documents on the canal and related documents, too.
Kagawa Canal was completed in 1974 after construction works for 5 years and 7 months. The water collected from Yoshino River at Sameura Dam is taken 1.8km upstream of Ikeda Dam located in Tokushima Prefecture, westernside of Kagawa Prefecture, runs through 8km tunnel in Sanuki Mountains and reaches Kagawa Prefecture. As Kagawa Prefecture is infamous for the scarce rainfall, water delivery is essential for the people of Kagawa Prefecture to develop agriculture and industries. In this respect Kagawa Canal is the key lifeline for Kagawa people.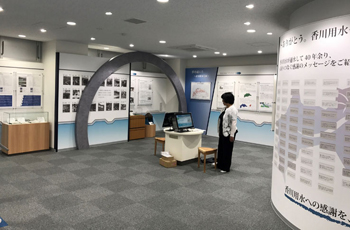 One of the purposes of this center is to increase the awareness of the local people as well as visitors for better understanding of the importance of the canal and to hand down this concept of importance from generation to generation.
This center consists of three areas: area one is to introduce the climate and people's lives before completion of Kagawa Canal; area two depicts the Kagawa Canal Project in detail; area three explains the current operations and future issues, including the maintenance of the facilities, conservation of water sources, etc. In addition, the bird's eye view of the canal and related facilities are shown. Visitors can also learn related facilities like reservoirs and a dam.
The hall is open Monday through Friday from 9:00am to 5:00pm. Visitors, including school children, are welcome to learn more about Kagawa Canal and related facilities.