"There is a gigantic dragon in Shikoku Island!"
A twitter uploaded with a picture of that dragon by Mr. Shikago "Chicago" Kaminarimon, storyteller of Rakugo (Japanese art of storytelling) /cartoon artist attracted over 100,000 viewers on SNS. The uploaded picture was taken by him from the plane he was aboard from Matsuyama Airport, Ehime Prefecture on the way to Chubu International Airport, Aichi Prefecture on September 1, 2017.
There was a rumor spreading in the past about the shape of the Sameura Dam reservoir as it looked like a shape of a imaginary animal of dragon (well known as the one appearing on the animation movie entitled "Dragon Ball").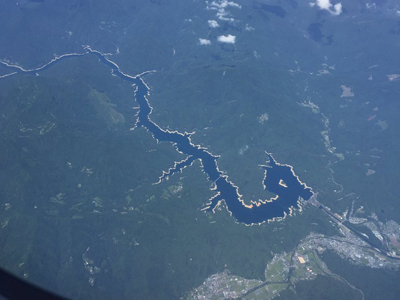 Sameura Dam is one of the dams managed by Japan Water Agency located in Shikoku Island. As northern side of Shikoku is known as the land of drought in summer and that is why this dam was built to serve the water to the people and industry of Shikoku, the dam reservoir is likely to hold far less water than full capacity. This phenomenon could have caused to show up the sharp dragon image.
Dams are mostly located deep in the mountains but there will be some more interesting things you may find when you go there. Maybe some more attractive views not from the plane but on site!