Visit to a Dam Site has now become the Fashion of a Present Day Tour!
(Tourists will enjoy the grand view of Tokuyama Dam from the observatory)
12 October, 2017
Is it catchy to say that it is somewhat fashionable to visit a dam site? Or is it somewhat sensetional to mention that a dam site is an attractive sight-seeing spot? The fact is that commercial tour started including the visit to a dam site. The Chunichi Newspaper circulated in the central part of Honshu, or Nagoya and wide surrounding areas, on its September 28, 2017 issue mentioned that the tour was arranged by a private enterprise for a tour, including the visit to Tokuyama Dam located in Ibi Town of Gifu Prefecture.
The following is the summary of the tour:
Tour Summary
Dates
October 17 and 29, November 3, 18, 21, and 30
Tour route
Start from JR Nagoya Station at 8:00am,
go to a hilltop tea plantation site, Kamigare District of Ibigawa-cho and walk around there on walking trails,
have a lunch of delicious and healthy medicinal herbs dishes at Kasuga Morimori Village, optional hot spring bath taking,
then visit Tokuyama Dam and observe the brilliant view of the dam and surrounding site from the observation platform.
On its way back, tourists will drop in at the roadside station "Starry Place Fujihashi" for shopping of local specialties.
Return to Nagoya Station around 6:30pm.
When you are planning to go to the mountains for a tour, you can check the nearest dam site on the following websites:
Most of the dam sites offer you beautiful autom colors as autumn is the best season to visit dam sites to see gradation of color-changing leaves.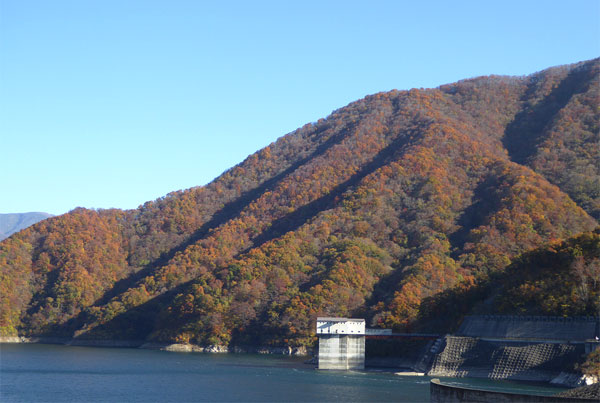 A photo of Tokuyama Dam with beautiful automn colors