Coordination contract with Yamaguchi University signed
2 November, 2017
On 2nd of November, 2017, Water Resources Engineering Department of Japan Water Agency has signed the contract on promoting comprehensive coordination with the Faculty of Engineering of Yamaguchi University. Water Resources Engineering Department has been interacting with faculty members of Yamaguchi University in the area of advice and guidance on technological studies, and this agreement is the concrete outcome of the past cooperation.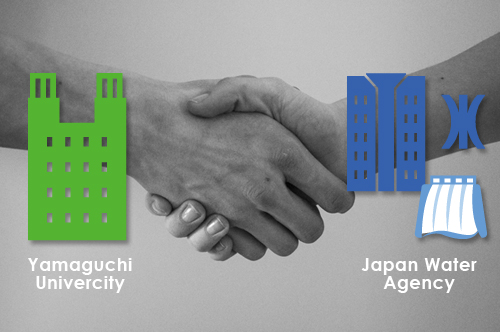 The agreement covers the following areas:
By promoting the comprehensive coordination in all the possible areas that allow mutual cooperation, especially in the field of reconstruction and management of facilities for the development and use of water resources, both parties will cooperate in
Dissemination of research results and promotion of their use in society
Stability of our lives and healthy development of social economy
Human resources development in research and engineering fields
Promotion of academics and strengthening of education
More in concrete terms, we are going to work for the following:
Cooperative research work, consignment of research, and mutual interactions related
Performing effective mutual research work
Providing society with technologies acquired through mutual coordination
Conducting lecture meetings on research trend and social environment surrounding the technologies involved
We are sincerely expecting to have a significant result in the future.