Dam Enthusiasts Gathering at Yokoyama Dam and Tokuyama Dam on 23 November, 2017
6 November, 2017
9th Dam Enthusiasts Gathering will take place at Yokoyama Dam and Tokuyama Dam hosted by the steering members. Timeline and the event are shown below. If you are one of those dam lovers and interested in going there, this will be a good chance to make friends with people of the similar interest. As you may also know that Tokuyama Curry and Rice lunch is available at the cafeteria of Tokuyama Hall. (Sorry, on a reservation basis only due to lots of visitors on the national holiday.)
Remarks:
* Yokoyama Dam is managed by Chubu Regional Development Bureau of Ministry of Land, Infrastructure, Transport and Tourism.
* Tokuyama Dam is managed by Tokuyama Dam Operation and Maintenance Office of Japan Water Agency.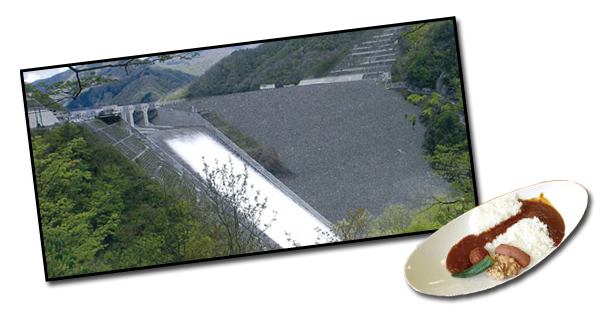 Gathering Place
Yokoyama Dam Visitors' parking lot (downstream of the dam)
Time and Place
10:00
Yokoyama Dam (Dam tour)
11:30
Leave Yokoyama Dam (Transfer)
12:00
Arrival at Tokuyama Hall (Lunch)
13:00
Leave Tokuyama Hall (Transfer)
13:10
Arrive at Tokuyama Dam (Tour)
Briefing at the left bank square
Spillway gate (approach from the upstream of the gate)
Visit to the inspection gallery
Tour of Dam Body (walking tour)
Gate room of spillway
Visit to the water intake facility
15:00
Disbanded at Tokuyama Dam
(Note: There will be no tour of Tokuyama Hydroelectric Plant or a tour from the downstream side of the dam body. As the parking lot will be jammed with visitors' cars thanks to the autumn colors observation season, sharing the car will be appreciated.)
No. of participants
Around 30 people
Lunch
Those who want to have lunch at Tokuyama Hall cafeteria, please select either "Tokuyama Dam Curry and Rice" or "Wasabi Lunch (Japanese horseradish Lunch)". Those who want some other food should pick up "No lunch" and place an order separately at the cafeteria on arrival. (The dam curry and rice will be available for only 20 visitors with reservations.
Participation Enrollment Method
Dam curry and rice will be ordered in advance by the host members. Please make a reservation through the following website page by November 15, 2017. Please refer to the DAMPEDIA page below. Sorry, only in Japanese.