Operation in Anticipation of Tsunami
If a tsunami alarm has been issued by the Meteorological Agency for the Ise Bay coast, and the area is expected to be hit by a heavy tsunami (when a tsunami of 2 m or more is observed by the Kamishima Observation Station at the mouth of Ise Bay), all the gates are raised above the top of levee height. Hence, the gates will never be a barrier if struck by a tidal wave.
Prior to full opening of the gates, users of the river such as vessels and anglers are informed of the approaching tsunami through speakers and sirens to alert them to evacuate the river, while the organizations concerned are notified. Patrols are used to encourage and confirm the evacuation.
Full opening of the gates can be accomplished within about 40 minutes, even when they have been fully closed. Since the arrival of a tsunami observed by the Kamishima Observation Station is about 65 minutes later, the opening operation can be carried out with sufficient time on hand.
In the past, earthquakes causing relatively large tidal waves in Ise Bay have had their epicenters outside the bay. In the event that an earthquake should occur inside Ise Bay, it is judged that no tsunami large enough to hinder the barrage from functioning will be caused, since the Bay is only 30 m deep.
ALARM FACILITIES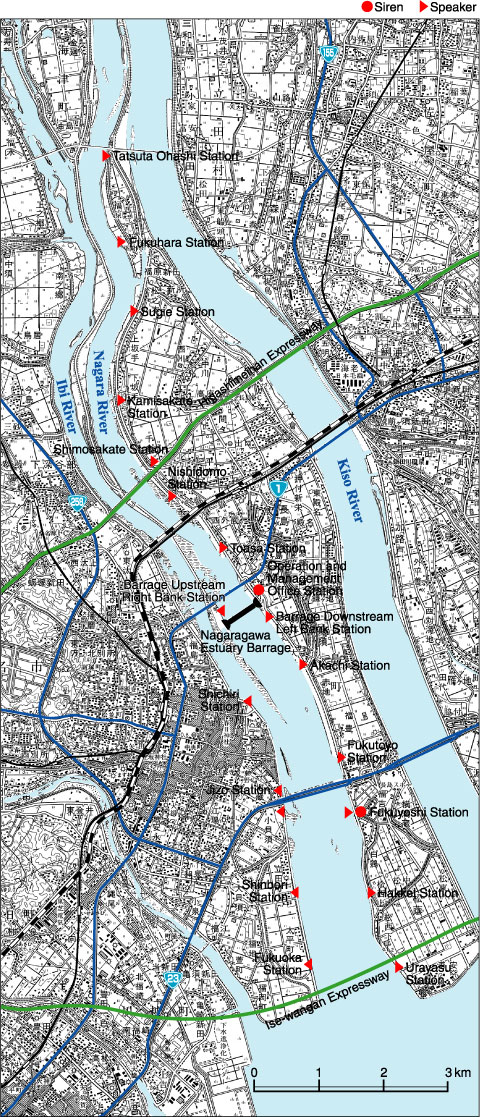 The above map was reproduced from a 1:50,000 topographical map issued by the Geographical Survey Institute with the approval of GSI's Director General (Approval No. 2006, Reproduction 315).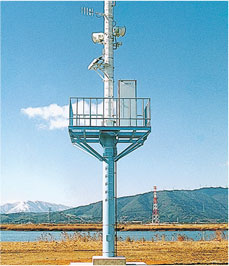 The Sugie Station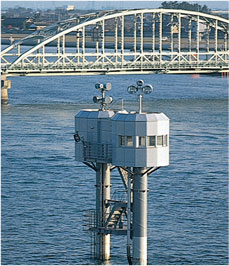 The "Barrage Upstream Right Bank" Station
(The Nagara Estuary Barrage Right Bank Upstream Observation Station)
Time for tsunami to arrive (tsunami during the expected Tokai Earthquake)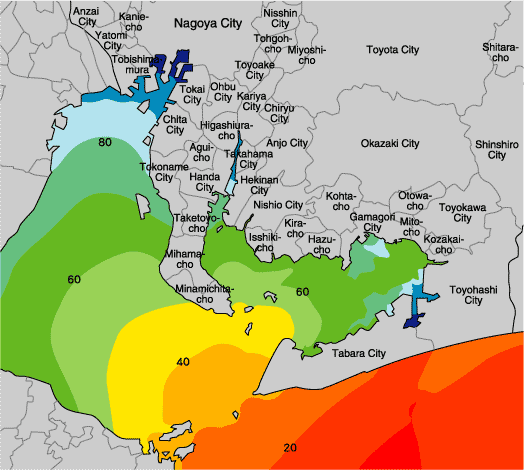 Interim Report on Estimated Damage by the Aichiken Tokai Earthquake and Tonankai Earthquake compiled from the materials of the Earthquake Section of the Aichi Prefecture Disaster Prevention Conference in March 2003.
The behavior of the tsunami assumed to be caused by the Tokai Earthquake has been estimated using a simulation model.