Gate Hoists
To open and close the gates, wire rope winch-type hoists are installed for both the upper gates and the lower gates. When these are operated, the gates can be opened and closed simultaneously. It is possible to raise the gates within about 40 minutes.(Fully closed gates can be raised to the water surface at T.P. + 1.3 m in about 25 minutes.)
To reduce operating time, the lock gate is equipped with a high-speed motor that enables the gate to be opened and closed at a speed of about 5.0 m/minute.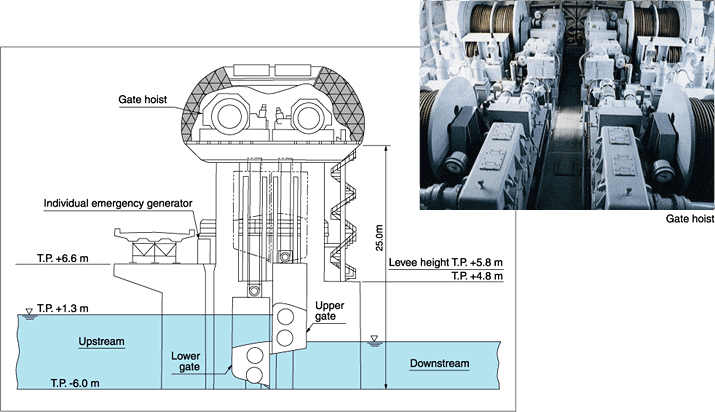 The Nagaragawa Estuary Barrage is equipped with the following safety measures to ensure that the gates can be opened or closed in violent, stormy conditions:
Counter power failure
Usually, the gates are opened and closed using commercial power supplied by an electric power company.
Two emergency generators (capable of parallel operation) are installed in the management office as a precaution against power failure.
In addition, each gate has an individual emergency generator, enabling power to be supplied to the next gate along in case of starting failure or similar faults.
Motor problems
As a precaution against problems with the main motor that is usually used, all operating devices are equipped with emergency motors.
Breakage of power line
The high-voltage cables running from the power room of the management office to the right and left bank power rooms of the barrage are duplexed, as a precaution against line breakage or similar problems. In addition, a relay line has been laid on the secondary side of the motor transformer between the right and left bank power rooms of the barrage, to provide back-up during blockage or inspection.
As described above, the gate hoists have multiple fail-safe facilities, ensuring reliable operation in an emergency, including during power failures.

Emergency generator (machine No.1) at management office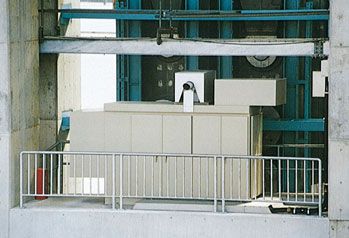 Individual emergency generator (No.1 barrage pier)