New Year's message from the president for 2022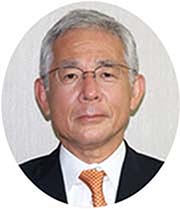 A happy new year to you all.
The long-standing disease emergency declaration on new coronavirus infections was lifted in September 2021, and the infection's spreading status is currently staying at a low level. The Japan Water Agency has been taking thorough infection control measures so as not to suspend our continued services and we will assure you that we will continue our efforts to prevent infection from spreading without lax control.
Against frequent abnormal heavy rains caused by recent climate change, basin-based overall flood control projects have started nationwide. Among them, flood control* by dams has played a significant role. The heavy rains in August last year caused a large flood in the Kiso River system, and we, the Japan Water Agency, carried out flood control measures at Misogawa Dam and Agigawa Dam among other things and those proved very effective. In addition, at Makio Dam, which is a water utilization dam, we contributed to decreasing the water level downstream, utilizing the extra capacity secured by the pre-discharge** to store flood water. It was a great encouragement for us to receive a thank-you note from the mayor of a downstream town when he visited the management office at a later date. It also made us feel the heavy responsibility of dam management. We will keep striving for appropriate dam operation and management.
Last year, the Tokyo Olympics and Paralympics were successfully completed. For them, related organizations prepared various drought countermeasures in the Tone and Arakawa river systems. We were fortunate enough to strive for stable water supply in other water systems as well. We were not hit by a big drought, either. Under the circumstances, Aichi Canal celebrated its 60th anniversary of water conveyance, and Narita Canal and Hokuso-tobu Canal celebrated their 40th anniversary of water conveyance. We are grateful that we have been able to maintain a stable supply for many years with the support from the related land improvement districts and other relevant parties, and again we will assure all the water users out continued services for appropriate water management.
Regarding the construction and reconstruction of our water resources development facilities, the Kawakami Dam Construction Office of the Yodo River system started initial impoundment in December 2021 and is making a good progress toward completion in 2023. In the Tone River basin's Omoigawa development project, we have completed the foundation excavation of the main body of the Nanma Dam and started building the embankment. We will steadily proceed with the construction work toward the completion in 2024. The emergency reconstruction of the Boso Canal facilities and the emergency reconstruction of the right bank of the Kiso River were completed as planned in March 2021. As to the emergency countermeasures for Miyoshi lateral canal of Aichi Canal, embankment reinforcement work of Miyoshi Reservoir was over and remaining work for the reconstruction of lateral canals are underway and it is expected to be complete next year.
Now, with the aim of digitizing society as a whole, digital transformation (DX) that creates new value from the user's perspective by utilizing digital technology and data in services provided by the government are called for. The Japan Water Agency formulated the "DX Promotion Project" in September 2021. Based on this project and its guidelines, in promoting the development and utilization of water resources, we are working to utilize digital technology in all fields to enhance various services toward the people in general as well as our water users. We are also endeavoring our efforts in supplying safe and quality water and help forming safe, disaster-resistant and rich communities. When it comes to our internal organization, we will do our best to improve the work process, working behaviors to realize enhanced work and life balance of our employees and ensure our future workforce.
As our fifth medium-term target period will start in April 2022, we will continue proper management and construction of our water resources development facilities based on our newly formulated mid-term plan against a number of challenges including climate change, earthquake resistance and aging of our facilities, disaster management assistance, and international infrastructure development, etc.
We look forward to your continued support and cooperation in this year and the future.
* Flood control:
To store part of the flood water in the dam and reduce the amount of discharged water into the river downstream to lower the water level downstream.
** Pre-discharge:
When heavy rain is predicted, discharge the capacity of water kept for water utilization in order to secure the free capacity of the dam in advance.