Message from the president
We are making every endeavor to meet with the expectations of people as a team of professionals in water business.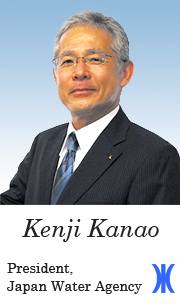 Japan Water Agency (JWA)
has been engaged in development and management of water resources in seven river systems, which were involved with the lives of more than half of the nation's total population. Through such activities, it has been contributing to the enhancement of the people's lives and its economic development by way of providing them with a stable supply of water in metropolitan zones particularly in Tokyo, Chubu and Kinki zones.
Since JWA was reorganized as an incorporated administrative agency in October, 2001, our primary goal has been set on the accomplishment of our social responsibilities with our pride as a team of professionals in water business as being described under our management policy of
"Supplying safe and good quality water stably at a reasonable cost"
. We will keep working for cost management, conservation of natural environment, water quality preservation and enhancement of risk management systems, also acting as a bridge to connect water source areas and water consumption areas. We will make every endeavor to implement our management by listening constantly to the needs of water users as our customers and all the people as well.
Nowadays, there are diversified and complicated issues facing us, Japan Water Agency, such as large-scale disasters like extraordinary draughts, extremely heavy floods, and big earthquakes; deterioration progress on our aging facilities; and also cases of infrastructure development in international market. We are endeavoring to properly handle those issues, making use of advanced technologies we have fostered so far as a team of professionals in water business, integrating with smart maintenance technique applied in the area of information communication technologies (ICT).
Your kind and continued assistance and cooperation will be highly appreciated.
April 2020