Projects
JWA has completed 64 of facility construction/reconstruction projects in the seven river systems that the government designated for water resources development, namely,
Tone, Ara, Toyo, Kiso, Yodo, Yoshino, and Chikugo River Systems
. The other 10 projects are ongoing in these systems. JWA is currently managing
52 facilities
, including
30 dams and canals
extending for
approx. 3,000 km
.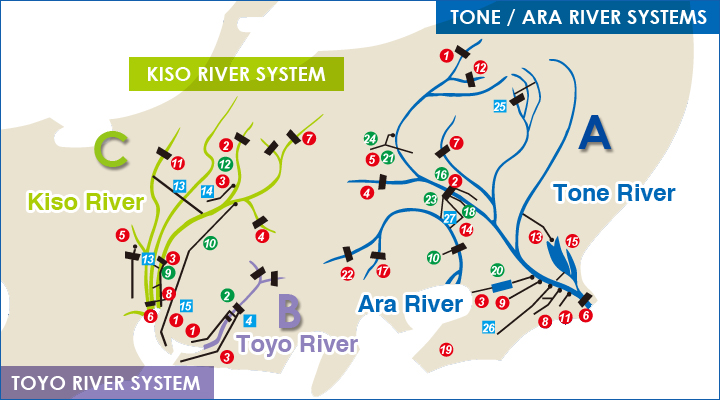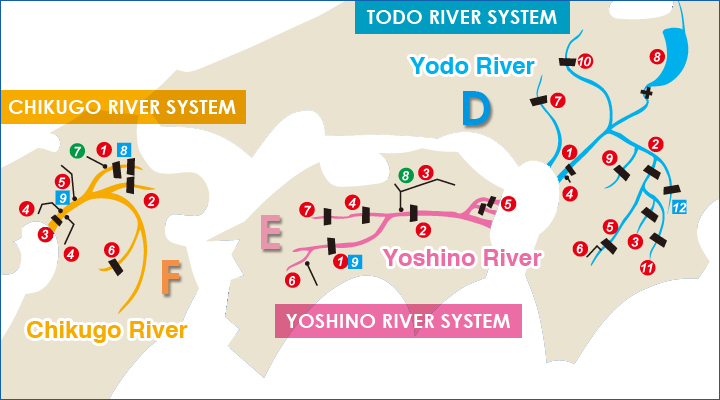 A: Tone / Ara River Systems
1.Yagisawa Dam
2.Tone Canal
3.Inbanuma Development
4.Shimokubo Dam
5.Gunma Canal
6.Tonegawa Estuary Barrage
7.Kusaki Dam
8.Hokusotobu Canal
9.Narita Canal
10.Reconstruction of Asaka Canal
11.Toso Canal
12.Naramata Dam
13.Kasumigaura Canal
14.Saitama Goguchi Stage II
15.Kasumigaura Lake Development
16.Emergency Reconstruction of Tone Barrage Facilities
17.Urayama Dam
18.Tone-chuo Canal
19.Boso Canal
20.Emergency Reconstruction of Inbanuma Development Facilities
21.Emergency Reconstruction of Gunma Canal Facilities
22.Takizawa Dam
23.Reconstruction of Musashi Canal
24.Omoigawa Development
25.Emergency Reconstruction of Gunma Canal Facilities
26.Emergency Reconstruction of Boso Canal Facilities
27.Measures for Tone Canal agaist Large-scale Earthquake

B: Toyo River System
1.Toyogawa Canal
2.Emergency Reconstruction of Toyogawa Canal Facilities
3.Toyogawa Comprehensive Canal
4.Toyogawa Canal Stage II

C: Kiso River System
1.Aichi Canal
2.Iwaya Dam
3.Kisogawa Canal
4.Agigawa Dam
5.Mie Canal
6.Nagaragawa Estuary Barrage
7.Misogawa Dam
8.Nagara Canal
9.Emergency Reconstruction of Kisogawa Canal Facilities
10.Aichi Canal Stage II
11.Tokuyuama Dam
12.Emergency Reconstruction of Kisogawa Right Bank Facilities
13.Kiso River System Aqueduct
14.Emergency Reconstruction of Kisogawa Right Bank
15.Aichi Canal's Miyoshi Lateral Canal Emergency Measures

D: Yodo River System
1.Yodogawa Barrage
2.Takayama Dam
3.Shorenji Dam
4.Shorenjigawa Development
5.Murou Dam
6.Hayase Channel
7.Hitokura Dam
8.Lake Biwa Development
9.Nunome Dam
10.Hiyoshi Dam
11.Hinachi Dam
12.Kawakami Dam

E: Yoshino River System
1.Sameura Dam
2.Ikeda Dam
3.Kagawa Canal
4.Shingu Dam
5.Kyuyoshinogawa Estuary Barrage
6.Kochi Canal
7.Tomisato Dam
8.Emergency Reconstruction of Kagawa Canal Facilities
9.Rehabilitation of Sameura Dam

F: Chikugo River System