Dams, Canals
Kanto Area
Tone Canal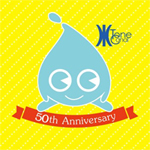 Tone Canal Project
aimed at water intake from
Tone River
and supplying irrigation water to the middle reaches of Tone River basin areas, which had unstable water supply and also coping with the increasing water demand in Metropolitan Tokyo, which were challenging the success of Tokyo Olympics and related events at that time. The project started in November 1963 and completed in March
1968
. So this year we are going to have
50th anniversary
.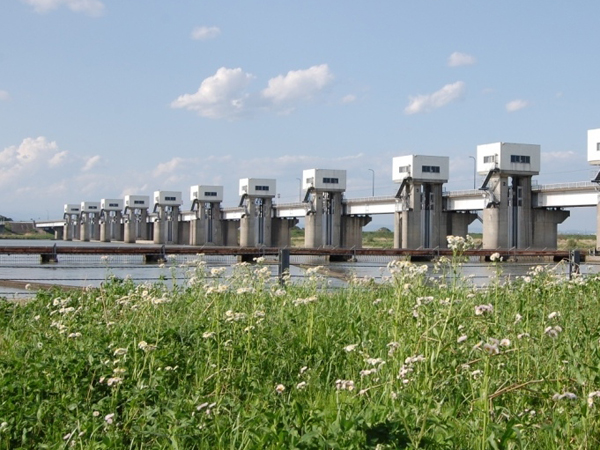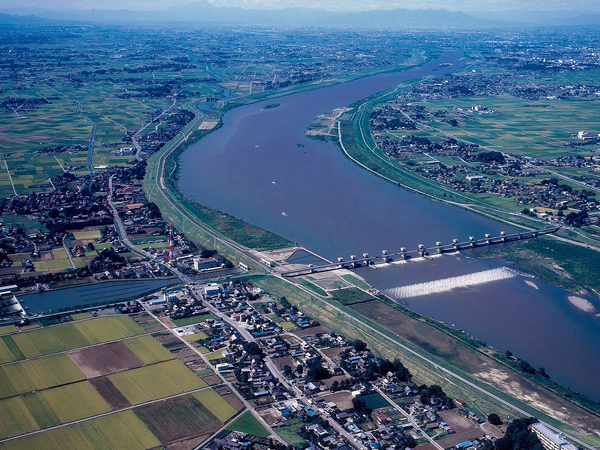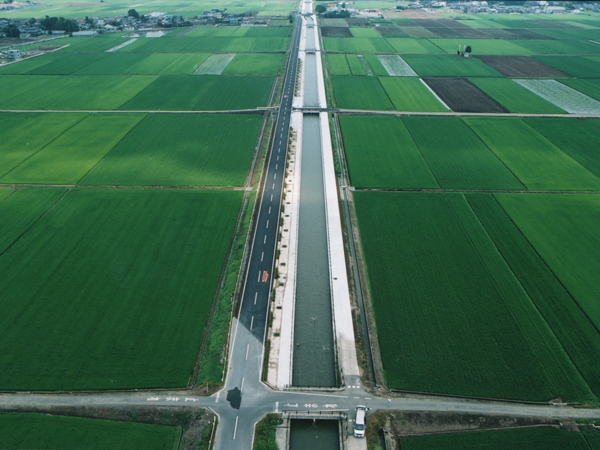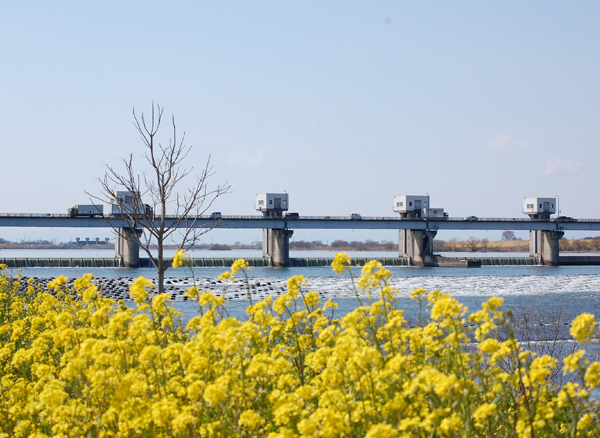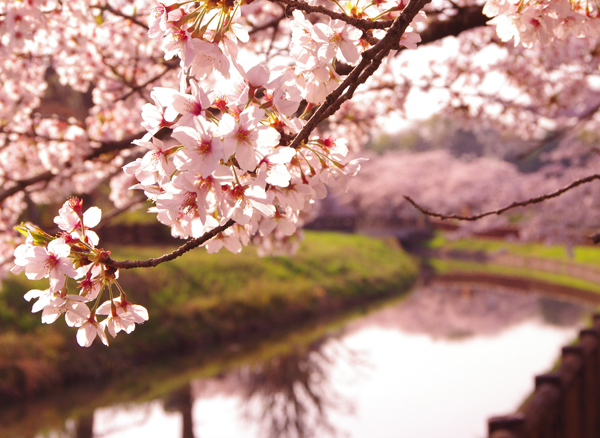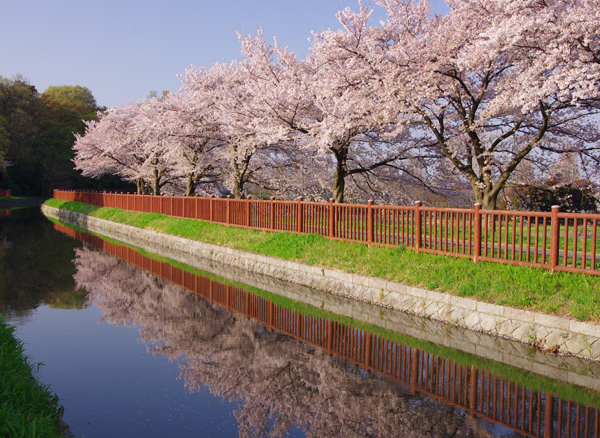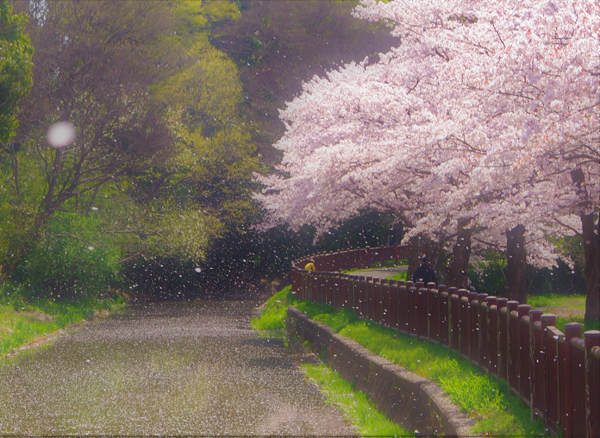 Purpose

1.Irrigation water

Max. intake: approx. 72m³/s (Benefited land: approx. 24,000 ha)

2.Domestic water

Max. intake: approx. 40m³/s (water supply population: approx. 12 million)

3.Industrial water

Max. intake: approx. 2m³/s (approx. 700 institutions)

4.Purification water

Max. 30m³/s

Benefited Area

Gunma Pref.

Tatebayahi City, Chiyoda Town, Itakura Town, Meiwa Town

Saitama Pref.

Gyoda City, Hanyu City, Kazo City, Kuki City, Hasuda City, Kasukabe City, Kosigaya City, Kawaguchi City, Ageo City, Souka City, Toda City, Satte City, Yoshikawa City, Yashio City, Misato City, Warabi City, Shiraoka City, Miyashiro Town ,Ina Town, Sugito Town , Matsubushi Town

Facilities
Tone Barrage (Main Barrage: Total Length:490m, Water Intake, Sediment Reservoir, Outer Pumping Station)
Unification/connection Channel (Saitama Canal Length=approx. 16.7km, Oura Canal Length: approx. 16.6km)
Kasai Canal (Length: approx. 13.5km)
Completion
1967
Details
This facility was constructed to meet the increasing water demand in the metropolitan area of Tokyo and to work as part of the comprehensive water resources development plan of Tone River system. As a result it was completed under the Tone Canal Construction Project to supply irrigation water to the farmland scattered in the midstream area of Tone River and to supply enough urban water to Tokyo and Saitama Prefecture where water was in short supply, and enough water for water purification of Ara River. At Tone Barrage, max. water intake is 134.064m³/s and the facility manages the water conveyance -to the following six canals, i.e. Saitama, Oura, Minuma Dai, Kasai, Musashi, and Gyoda canals.
Mizuki-chan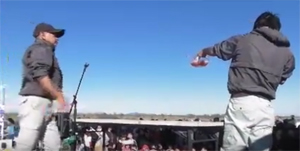 Salmon Run-ups and Roe Extracting Observation Day at Tone Barrage on 11 November, 2017
[5:04 / Only Japanese]
Location
Address

Gyoda City, Saitama Pref.

Phone No.

+81-48-557-1501

FAX No.

+81-48-557-1506
*Tone Canal Management and Construction Office
Access
Train and car
Approx.25 min. by taxi from Kitakounosu sta. or Fukiage sta. of JR Takasaki Line
Approx.15 min. by taxi from Hanyu sta. of Tobu Railway Isesaki Line
Tourist Spots
Minuma dai Canal Motoiri Park

Minuma dai Canal Motoiri Park was constructed in 1977 in memory of Yasobei Izawa, the developer of Minuma dai Canal in 1828. Within a short period of time this canal was completed, extending for 80km. In Edo period, rice was the staple food and the richness of the feudal lord's territory was measured by the amount of rice harvest. As it was an urgent need for the Tokugawa Shogunate Government to increase the rice harvest and for that purpose, water supply for irrigation of the rice field was a crucialfactor. So 8th Shogun Yoshimume ordered Mr. Izawa to build the canal rather urgently. To answer to this order, he constructed this canal, which contributed to the huge expansion of rice fields in Kanto Plain.

Sakitama Ancient Burial Mounds

Many burial mounds of the heads of the region were built from 5th through 7th century in Japan. What is unique to this ground is that there are eight such ancient burial mounds scattered around rather small area in the flat land somewhat away from a large river. Adjacent to some of the mounds, there is Museum of The Sakitama Ancient Burial Mounds, where some of the discoveries from the mounds are on display. A famous discovery is the sword with letters engraved. This engraving depicts the year of 471A.D., supposedly the oldest sword excavated from the ruin.

Events
Salmon Run-ups and Roe Extracting Observation Day at Tone Barrage on November

See more-> Topics:19 October, 2017
Tekken Marathon [Beginning of April]

Tekken Marathon is named after the iron sword named "

Tekken

" discovered in the burial mounds park. This marathon running course is laid out along

the Kodaihasu-no-sato

, or ancient lotus flower field,

Sakitama Ancient Burial Mounds

, and Gyoda City's center area. This is one of the biggest sporting events of the city and participating runners run in fresh warm spring breeze under the comfortably warm sunshine.


Sakitama Fire Festival [4 May]

This festival is held on 4 May at

Ancient Burial Mound Park

every year. This festival is named after the romantic story of ancient deities of

Umihiko and Yamahiko

. When it begins to get dark, the processions of "Niniginomikoto"(Male deity) and his followers and "konohanaakuyahime"(Female deity) and her followers come to the park to perform the show and invite the audience to the mythological world.


Oshi Castle Jidai (Ages) Festival [Beginning of November]

This is the festive event held at the

Oshi Castle ruins in early November

. The event includes

the procession of samurai-clothed members

resembling those during the Edo period and the performance of firing of old-styled arquebuses. At the parking lot of the city hall and industrial/cultural hall, a large scale bazzar is held, featuring the sale of local specialties and hands-on experience of making them, and blass band peformance, etc.