Dams, Canals
Chubu Area
Toyogawa Canal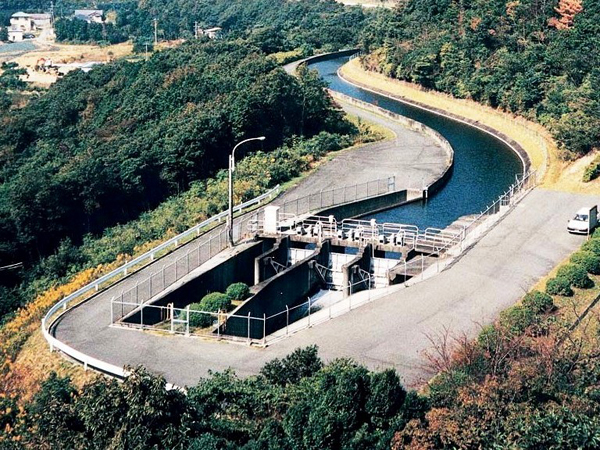 Purpose

1.Irrigation water

Max. intake: approx. 15m³/s (Onogake)
Max. intake: approx. 6m³/s (Muromatsubara gake)
[Benefited land: approx. 18,129 ha]

2.Domestic water

Max. intake: approx. 3m³/s (Onogake)
Max. intake: approx. 1m³/s (Muromatsubara gake)
[Water supply population: approx. 760,000]

3.Industrial water

Max. intake: approx. 2m³/s (Onogake)
Max. intake: approx. 1m³/s (Muromatsubara gake)
[Water supply area: 7 cities/towns/villages]

Benefited Area

Aichi Pref.

Shinshiro City, Toyohashi City, Toyokawa City, Gamagoori City, Tahara City

Shizuoka Pref.

Kosai City

Facilities
Water source facilities (Ure Dam, Oshima Dam, 5 head works (Ooiri, Furikusa, Ono, Muro/Matsubara, Kansagawa Head Works) and 7 regulating ponds (Mitsukuchi Pond, Hattachi Pond, Komaba Pond, Ohara, Manba, Ashiga Pond, Gamagori Regulating Pond), Canal Length= approx. 34.6km)
Main canals (3 canals, Length= approx. 124.7km), Lateral canals (166 canals, Length= approx. 561.3km)
Parallel canals (Length= approx. 75.3 km)
Completion
1967
Details
Toyogawa Canal project was implemented for the purpose of securing irrigation water, domestic water and industrial water for the East Mikawa Region of Aichi Prefecture and Kosai Region of Shizuoka Prefecture. To promote the purpose, the inter-basin water transfer scheme from Tenryu River system to Toyo River system was implemented. With the combined use of Ure Dam, Ono Head Works, main and lateral canals, and regulating ponds, etc., management operations of this canal project has been carried out smoothly since the operations start in April 1968. Toyogawa Comprehensive Canal, which in parallel with the original Toyogawa Canal, uses Oshima Dam as its water source facility, Kansagawa Canal facility and 4 regulating ponds in its territory have been managed for the supply of irrigation water and urban water for the said region since April 2002. After that, Toyogawa Canal Stage II project started to implement dual canals on the main canal for stable water conveyance, proper maintenance management, and efficient water utilization. From April 2016, management of selective areas started.


See more

The Brochure [1.7MB]

Konohazuku
Location
Address

Toyohashi City, Aichi Pref.

Phone No.

+81-532-54-6501
*Toyogawa Canal Management and Construction Office
Access
Train
Approx.10 min. by walking from Higashi-Haccho-Dentei sta. of Toyohashi Railroad Azumada Line (Tram)
Award
Tourist Spots
Toyokawa Inari (Temple)

This temple is quite famous among all the business persons, because of the alleged effect of this Inari temple for buiness prosperity and growth.Especially during the new year holidays awful lots of worhippers come to this temple as one of the three most well-known Inari in Japan.


Mt. Horai and Horaiji Temple

Located in the west of Oshima Dam and other facilities, Mt. Hirai and Horaiji Temple are located. The temple has the long history since its foundation in the 700s and the main entrance trail to the temple consists of 1425steps of stones and there is the tallest Japanese cedar tree of 60m (800 years Old) standing on the trail. Aichi Prefecture's simbol bird of Japanese scops owl is said to be living in the forest of this mountain, so the entire mountain forest is now designated as natural scenic beauty and national monument as well. If you are wonderinga about it, you should come and confirm its healing effect.


Water and Life Museum

Water and Life Museum, run by Aichi Prefectural Government, stands on Safuri Lake in Chita City, Aichi Prefecture. Nearest convenient Station is Asakura of Meitetsu Tokoname Line. But as no bus service is available between the station and the museum, please take a taxi (about 10+ minutes). This facility was opened first on 1976, but it was renovated in 1994 and many elementary school students come to this museum for social study tour. Some

agricultural implements

used at the time before Toyogawa Canal was built along with the relief model of geographical features of Chita Peninsula. Also some large screen video presentations on the development of water works and industrial water projects in Aichi Prefecuture. In the plum bloom season

in February to March

, over 5000 plum blossoms are in full bloom. When you have a chance to come to the lake in this season, please just stop by this museum.

Events
Nagashino Kassen Nobori Festival (Nagashino's Battle Banner Festival) [5 May]

Nagashino's battle is quite well known as a large-scale battle between over ten thousands of the western group of

Lord Oda and Lord Tokugawa and over 50 thousand of eastern group of Lord Takeda

. This triggered the huge war for

the unification of the Japanese feudal territories

. And this battle ground happened to fall in Shinshiro City. Shinshiro Citizens wanted to console the souls of the dead worriers during that battle, they contributed to the donation of the banners which belonged to those dead and raised them for their comfort. Nowadays this soul comforting festival is held

on 5 May every year

and

harquebus shooting performance and fighting spirit-stimulating drum beat performance are played by armored cloth performers

.


Toyokawa Citizen's Festival "Toyokawa Fireworks from hand-made tube" [End of August]

Toyokawa Citizen's Festival dates back to 1988 when 45th anniversary of city establishment was celebrated. With Toyokawa Athletic Field Park as the main venue, citizens gather and celebrate the anniversary, including the dancing performance. The festival reaches the climax when

tens of special fireworks tubes were ignited with gunpowder in the evening

. As each bamboo tube covered with reinforcing surrounding materials is made by each individual performer, each tube has its unique density and shows somewhat different power output. But at night when groups of fireworks are ignited with slight intervals and then once all of them are lit, sparkling fire fascinates the viewers with astounding spectacles with bright fireworks power.
This performance lasts for three hours and a total of several hundreds of man-made tubes and about 2,000 fireworks are prepared each year.