Dams, Canals
Chubu Area
Komono Dam (Regulating Pond)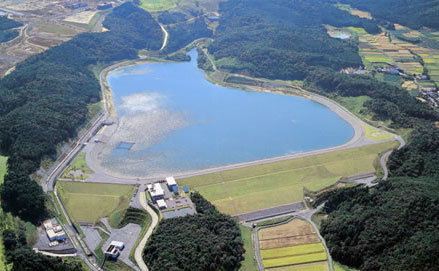 Purpose
AWI

*

See more -> the functions of the dam
Location
Komono Town, Mie Gun, Mie Pref.

*

See more
River
Aka River, Mitaki River System
Type
Earthfill dam
Gate
Gateless
Dam Height(m)
28.4
Crest Length(m)
674
Total Storage
(1,000m³)
1,600
Completion
1989
Details
Komono Dam is situated at the central part of Mie Canal. It intakes the water from 4 rivers, including Mitaki River through the main waterway and store it. It then supplies irrigation water to Komono Town and Yokkaichi City and raw water for domestic water to 2 cities, including Yokkaichi City and 1 town.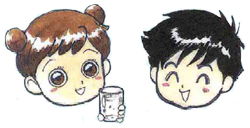 Mie-chan and Yosui-kun
Location
Address

Komono Town, Mie Pref.

Phone No.

+81-593-93-2000
*Mie Canal Operation and Maintenance Office
Access
Train
Approx. 20 min. from Obaneen sta. of Kintetsu Railway Yunoyama Line
Car
Approx. 20 min. from Yokkaichi IC of Higashi-Meihan Expressway
Dam Card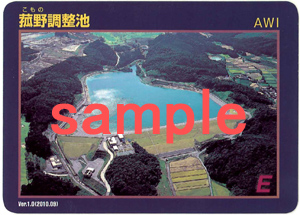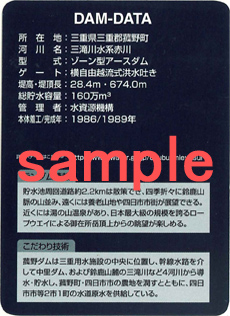 Tourist Spots
Yoro Waterfall

At the end of the Yoro Park in Yoro Town, there is a waterfall of 4m wide and 30m high. The waterfall gives us a splendid view, but what reminds us when we hear the name of this waterfall is the name of the pub chain named the same, i.e. Yoro no Taki. Based upon the story of this fall water having changed to SAKE (wine), the pub chain took the name of this fall and named their pub. This pub chain is now enjoys good business. Is't it funny?


Mt. Gozaisho

Mt. Gozaisho is one of the 200 famous mountains in Japan, located west of Yokkaichi City. Mie Prefecture. The peak of this mountain (1212m) and the hot springs resort of Yunoyama Hot Spring are connected with a Ropeway and you will see a wonderfull view of Ise Bay and the hot spring resort area from the top. This mountain boasts of the beautiful autumn colors and pink/scarlet colored azeleas in May as well as various strangely shaped large rocks. The ropeway is crowded with skiers in winter.

Events
Opening of cormorant fishing [11 May]

Every year on 11 May, the cormorant fishing event is held to

pray for the safe and good fishing process

during the entire fishing season. In the evening, when the darkness prevails, event-observation boats surround the cormorant fishing boats, and become ready to watch the spectacular sight.

Dram beating performance and fireworks

encourage and pray for a good start of the fishing season in a more vibrant mood.


Nagara River Takigi Noh
(The evening of traditional cultural theatrical play of Nagaragawa Torch light "Noh" Performance) [August]

This is the annual traditional cultural event in summer-"

Noh

" play and "

Kyogen

" (traditional short comedic drama) performed on a specially set stage extended toward the

Nagara River bed

. With pitch black Mt. Kinkasan and illuminated Gifu Castle on top on the mountain on the background, the boat with a professional cormorant fisherman on board approaches the specially designated stage in the middle of the river, then

a part of the bonfire is transferred

and another bonfire on the play stage is ignited, then subtle and profound world of Noh emerges on Nagara River. It's the start of SHOWTIME.


Gifu Nobunaga Festival [First Sat. through Sun. of October]

Gifu Nobunaga Festival is held from first Sat. through Sun. of October every year and is one of the famous festivals held in Gifu City. As

Oda Nobunaga

, first feudal lord who tried to unite and govern the entire Japan,

started his movement from Gifu Castle

, the people of Gifu are still proud of him and in memory of his attempt, hold the festive event every year, including warriors procession and musical band parade on the main street, and a memorial ceremony at

Soufukuji Temple, which is Oda Nobunaga's family temple

, all of which attract visitors to this city every year.