Dams, Canals
Chubu Area
Togo Dam (Regulating Pond)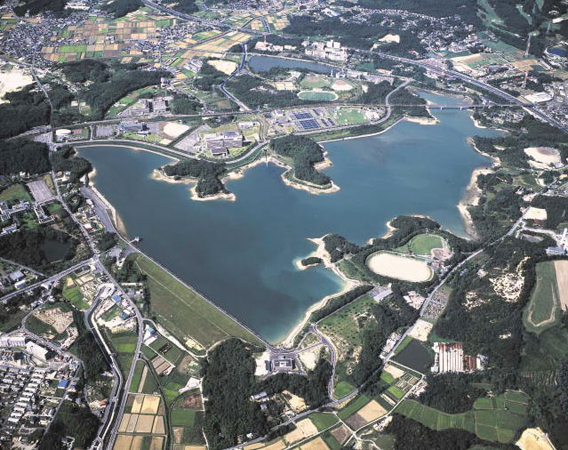 Purpose
AWI

*

See more -> the functions of the dam
Location
Nisshin City, Aichi Pref. / Miyoshi City, Aichi Pref. / Togo Town, Aichi Gun, Aichi Pref.

*

See more
Type
Earthfill dam
Gate
Radial gate:1
Fixed cone valve:2
Roto valve:1
Dam Height(m)
31
Crest Length(m)
975
Total Storage
(1,000m³)
9,000
Completion
1961
Details
Togo Dam was constructed on the permeable foundation by applying the most advanced construction method at that time, introducing latest civil work technologies from the U.S. such as Blanket method and Relief well construction method. A small hydraulic power plant was constructed in the downstream of the dam and is generating electricity used for management of Aichi Canal.


See more

The Brochure [2.5MB]
Location
Address

Togo Town, Aichi Pref.

Phone No.

+81-561-39-5460
*Aichi Canal Integrated Operation and Maintenance Office
Access
Car
Get off Tomei Expressway at Tomei-Miyoshi IC

Train
Get off Meitetsu Toyota Line at Komenoki sta.

Dam Card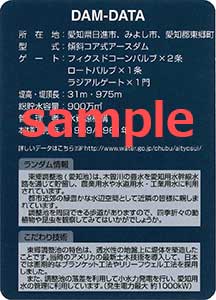 Tourist Spots
Toyokawa Inari (Temple)

This temple is quite famous among all the business persons, because of the alleged effect of this Inari temple for buiness prosperity and growth.Especially during the new year holidays awful lots of worhippers come to this temple as one of the three most well-known Inari in Japan.


Mt. Horai and Horaiji Temple

Located in the west of Oshima Dam and other facilities, Mt. Horai and Horaiji Temple are located. The temple has the long history since its foundation in the 700s and the main entrance trail to the temple consists of 1425steps of stones and there is the tallest Japanese cedar tree of 60m (800 years Old) standing on the trail. Aichi Prefecture's simbol bird of Japanese scops owl is said to be living in the forest of this mountain, so the entire mountain forest is now designated as natural scenic beauty and national monument as well. If you are wonderinga about it, you should come and confirm its healing effect.

Events
Aichi Pond Half Marathon and Family-running Meeting [Middle of December]

This half-marathon event is designed to promote the health of families and friends so that they run together on the running course set along the Aichi Pond with full of greens.


Entry fees:

\4,500 for half-marathon \3,500 for jogging course, \3,000 for family running course