Dams, Canals
Kanto Area
Urayama Dam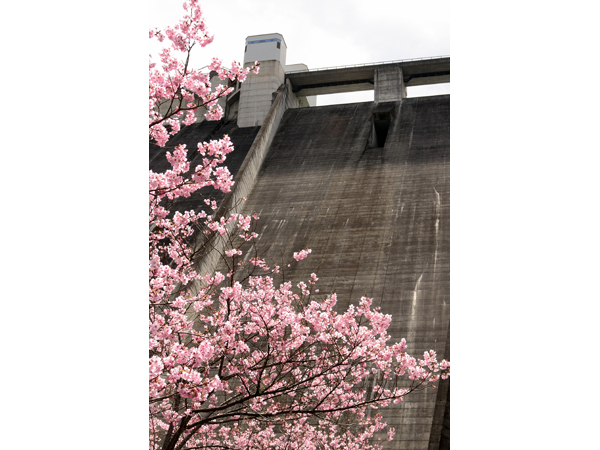 Purpose
FNWP

*

See more -> the functions of the dam
Location
Chichibu City, Saitama Pref.

*

See more
River
Urayama River, Ara River System
Type
Concrete gravity dam
Gate
Gateless
Dam Height(m)
156
Crest Length(m)
372
Total Storage
(1,000m³)
58,000
Completion
1998
Details
The Roller Compacted Dam-concrete (RCD) construction method was applied for its construction and a large amount of concrete was conveyed to the construction site continuously through the 4km of conveyer belt for rationalization for the first time in Japan as a large dam. The crest was designed after the Chichibu arch bridge in consideration of harmony with surrounding landscape.


See more

The Brochure [4.2MB]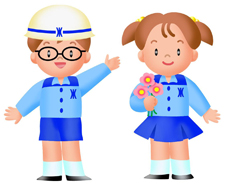 Urao-kun and Urara-chan
Location
Address

Chichibu City, Saitama Pref.

Phone No.

+81-494-23-1431
*Arakawa Dam Integrated Operation and Maintenance Office
Access
Train and Bus
Approx.30 min. walk from Chichibu Railway Urayama-guchi sta.
Chichibu City Bus "Nukumori-Go" runs from Seibu Chichibu sta. of Seibu Railway.
Dam Card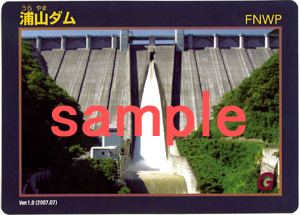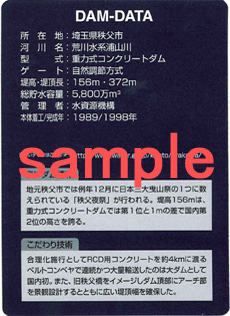 Tourist Spots
Seiunji Temple

This temple is famous for

a big weeping cherry tree

. It invites a lot of visitors to see this cherry's blossoms

in April every year

.


Hashidate-do Temple(28th "Fudasho")

Hashidate-do Temple is the 28th FUDASHO of Chichibu.

Fudasho is the temple where pilgrims visit and collect respective amulets.

Chichibu Region is well known for the 34 such Fudasho temples. Many pilgrims visit those

34 temples

on foot (ideally), by car, or by bike, etc. Full visits to all those 34 temples are supposed to give them comfort adn sense of achievement as well as alleged fulfillment of respective wishes of them. As this temple is situated on

the steep cliff of limestone

, there is a

cave extending for 200m underneath

, and its entrance is located by the temple. This temple is just a walking distance from the dam.

Shibazakura no Oka (Moss Pink Hill), part of Yozan Park

Moss Pink Hill is a newly developed hilly park with

different colored moss pink flowers

. This flower-bed-shaped ground gives us the image of huge colored flower bed with Mt. Buko, a representative mountaion of Chichibu region, on the background.

This is an ideal photo shooting spot for all visitors in spring.




Saitama Prefectural River Museum

Far downstream of Urayama Dam on Ara River about 20 min. walk from Hachigata Station and 7min. By taxi from Yorii Station of Tobu Tojo Line, this river museum offers

comprehensive display of Ara River information

, including local fish (feeding fish experience are provided),

3D pictures with ride simulator seats

in a theatrical setting, huge water mills outside the building, the observatory tower to see Ara River and mountain ranges to the north and west, etc.

Water athletic field

is also provided. So it will be fun for children and children at heart, too.

Gourmet Information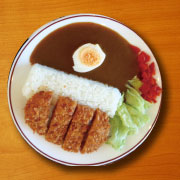 Urayama Dam Curry and Rice
Served with ham cutlet, symbolizing former Chichibu Bridge
¥750 (excluding tax)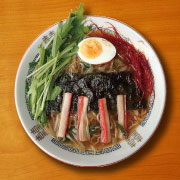 Urayama Dam Ramen
First Dam Ramen on the market. Proudly presenting with superb taste and low price
¥500 (excluding tax)
*Prices and ingredients may change.
Sakura Lake Restrant
[inside Disaster Management Center Urarapia]
Address

4041 Arakawakuna, Chichibu City, Saitama Pref.

Phone No.

+81-494-54-1059

Open

11:00-13:30 on Weekdays / 11:00-14:00 on Sat. , Sun, & holidays
Events
Illumination of a dam [Spring, summer, and winter]

See more-> Topics:15 December, 2017
"Invitation to Fantastic View of Illuminated Urayama Dam Rising Lightly into the Winter Night Sky"
Urayama Dam of Advance [Twice a year]

Literally this event named after the comic book/movie series of "

Attack on Titan

", however, the event picked up the fan part of the comic book and turned this event to become attractive to youngsters. As original Japanese word "

Shingeki

" can also be referred to the english equivalent of "

marching

", this event is somewhat means marching in Urayama Dam. The event is the integrated showcasing of comic figures and others illustrated on the bodies of cars and motor cycles; "

cosple-event

" or show-up of crowds of comic character-costume wearing visitors; music performance, and dance meeting, etc.


Chapter 7 ->

Topics:26 April, 2018

Chichibu Night Festival
[2-4 of December every year (Climax: the night of 2nd December)]

Chichibu Night Festival held at

Chichibu Shrine

in Chichibu City, is well known as one of the key festivals in Kanto region,

one of the three major decorative float-pulling festivals in Japan

. Other two are Takayama City Festival in Gifu Prefecture and Gion Festival in Kyoto Prefecture. The floats are pulled by local residents,

dram/flute/metal-drum combination music

performed on the float stage encourages them to raise the festive spirit. Four music floats and two umbrella-shaped decorative floats are pulled around the central part of the city to attract many visitors at nighit.

Theatrical play peformed on the narrow special stage

on the float and dancing on the same stage are also attractions for the local and visiting viewers, too.