Minumadai Canal in Spring
25 April, 2018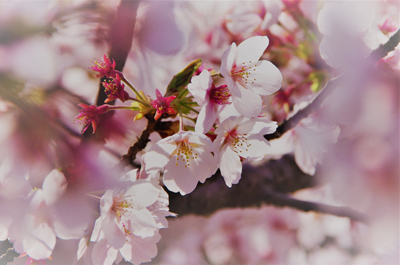 Severe winter has at last come to an end, giving place to gentle warm spring in Japan. Speaking of spring in Japan, it reminds us of cherry blossoms. Around April, cherry blossoms are in full bloom everywhere in Japan.
There are also many cherry trees around dams and canal facilities managed by JWA
and we can enjoy beautiful scenery of cherry trees in full bloom there in spring. This time, we would like to introduce
Minumadai Canal
that conveys water from
Tone Barrage in Gyoda City
, Saitama Prefecture to the Tokyo Metropolitan Area. It is
an important canal system that supplies Saitama Prefecture and the Tokyo Metropolitan Area
with agricultural water and domestic water. At the same time, it is a famous place for beautiful cherry blossoms planted along the canal and it transforms into
a cherry blossom wonderland
when these trees are in full bloom.
Construction of Minumadai Canal
Minumadai Canal
has a very long history. It was built
approximately 290 years ago
. At that time, there was
a large pond for irrigation water
called "
Minuma
" in the east part of present Saitama City. For the purpose of the development of paddy fields planned by the Edo Shogunate of that time, new large paddy fields were created by reclaiming land of Minuma. As an alternative irrigation water source to Minuma, Minumadai Canal was constructed to conduct water from Tone River that is
about 60 km away from Minuma
.
Yasobei Izawa
, an official of the Edo Shogunate was responsible for this construction project. He completed this project
in a half year
in cooperation with many local residents and making full use of various tools and surveying instruments. In order to shorten the construction period, he effectively utilized the river (the Hoshi) as part of the canal and at the crossover points of the canal and the river, he installed "
Fusekoshi (siphon)
" to make water run under the riverbed and "
Kaketoi (aqueduct bridge)
" to make water run over the river.
Fusekoshi(Wooden siphon)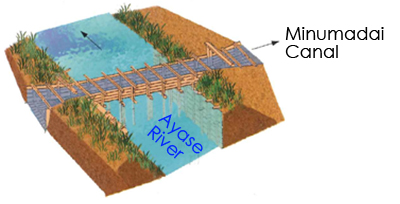 Kaketoi(Wooden aqueduct bridge)
Source: Brochure of Tone Canal Management and Construction Office, Minuma Operation and Maintenance Office
Modernization of the Canal Facilities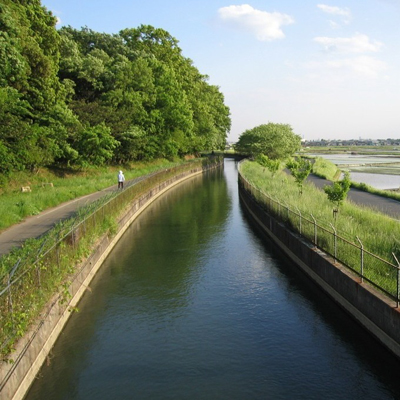 Minumadai Canal facilities have been operated and maintained ceaselessly since its construction. However,
amid the high-growth period of the 1960s in Japan
, water demand in Saitama Prefecture increased rapidly. In addition, the canal facilities had been deteriorated and also the purpose of utilization of water had changed due to the urbanization in this region. For these reasons,
Water Resources Development Public Corporation (the predecessor of JWA)
conducted a renovation project called "
Saitama Goguchi Stage ll Project
". As a result of the implementation of this project, stable supply of agricultural water became possible through renovation of the canal system and it also became possible to use the surplus water, which resulted from a reduction of the seepage loss from the canal through replacement of the earth canal with a concrete canal and the rationalization of water management, as tap water to be supplied to both Saitama Prefecture and the Tokyo Metropolitan Area. This renovation project was conducted
from 1978 till 1994
, and now JWA supplies irrigation water to approximately 11,343 ha of farmland in Saitama Prefecture, and tap water to approximately 1 million people in Saitama Prefecture and the Tokyo Metropolitan Area. In addition,
environmental improvement projects
along the canal have been actively carried out by neighboring municipalities, and water parks and promenades have been developed.
As part of these projects, cherry trees have also been planted
.
Relationship between Cherry Blossoms and Irrigation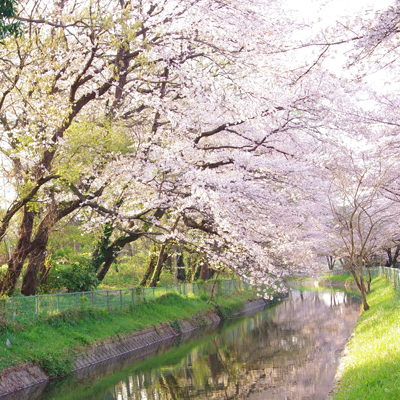 As mentioned above, one of the functions of Minumadai Canal is the supply of irrigation water. In Japan, the irrigation period and preparations for rice farming begin in spring. At first glance, irrigation and cherry blossoms seemingly do not have any relation, but actually they are surprisingly related. It is said that once there was
a custom in Japan to consider the blooming situation of cherry blossoms in early spring as criteria
to judge the timings of the start of rice farming (soil paddling and seeding etc.) and irrigation. This is, so to speak,
a today's crop calendar
. Even today, there are communities where local residents have been protecting cherry trees known as "
Taue-sakura
(rice planting cherry blossom)" or "
Tanemaki-sakura
(seeding cherry blossom)" for hundreds of years. A cherry blossom is the special flower which has been deeply rooted in the culture and the life, including agriculture, of Japanese people for a long time.
Afterword
In the beneficiary area of Minumadai Canal, the irrigation period begins now and they start rice farming of this year. Cherry blossoms have already fallen off this year, but they must bloom again next spring. How about visiting Minumadai Canal and seeing the cherry blossoms in full bloom there in next spring?

Report: International Affairs Division, Japan Water Agency