The Twinning Program has been implemented
17 May, 2019
Summary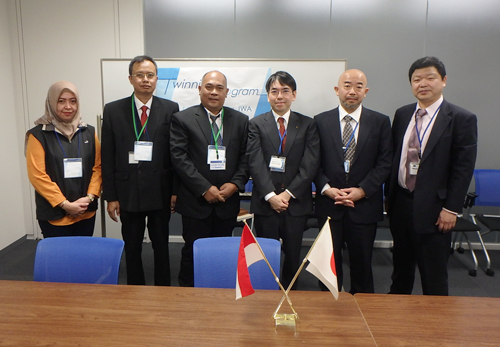 The twinning program was carried out between PJT1 (=Jasa Tirta 1 Public Corporation, Indonesia) and JWA (=Japan Water Agency, Japan) for four days from 22 April, 2019 to 25 April, 2019 in Japan. Such cooperative relations have been kept working since November 2004 based upon the MOU (=the Memorandum of Understanding) between them.
This is part of the activities of NARBO (=Network of Asian River Basin Organizations), aiming at capacity enhancement and mutual understanding and sharing opinions and information on IWRM (=Integrated Water Resources Management) among NARBO members under their cooperative relations.
Details of the program
Three persons were dispatched to JWA from PJT1 and they exchanged opinions and information, following the purpose and shared the thoughts from the working sites. There were two focused agenda this time. One was to find out what are the essential items needed for preparation for the management of 65 dams which were either in the investigation stage or under construction in Indonesia and also to bring back with them the examples of the measures which were taken before. Another one was to find out the troubleshooting measures against the on-going sedimentation problems at some of the existing dam reservoirs in Indonesia, as they were facing the sedimentation was causing the loss of functions. So they wanted to take back the countermeasures together with actual examples of them.
From 2nd day through 4th day, PJT1 delegates visited the working site together with the relevant mission delegates working on the World Bank Project on dam safety, which were currently under way in Indonesia. At the site, both delegate members exchanged opinions with site management staff. On the 4th day, they visited Miwa Dam located in Ina City, Nagano Prefecture and Koshibu Dam located at the boundary between Matsukawa Town and Nakagawa Village of Nagano Prefecture in cooperation with MLIT (=Ministry of Land, Infrastructure, Transport, and Tourism) . There they learned the measures with those examples actually applied for sedimentation removal from the reservoir, including the use of sediment removal bypass.
Period of Stay
22 April, 2019 (Mon) through 25 April, 2019 (Thu) for four days
Visitors
Mr. Wahyu Dutonoto (Vice President of Strategic Business, PJT1)
Mr. Setyo Wibowo (Head of Corporate Planning Division, PJT1)
Ms. Ina Estikasar (Staff, PJT1)
Program
Day 1

A courtesy call to Director General for International Affairs, JWA ; exchange of gifts, Information-sharing and exchange of opinions on PJT1 operations and JWA projects

Day 2

Exchange of opinions on dam management and earthquake resistance measures together with World Bank mission delegates

Day 3

Visit to Urayama Dam and Takizawa Dam, Saitama Prefecture together with World Bank mission delegates (Dam management)

Day 4

Visit to Miwa Dam and Koshibu Dam, Nagano Prefecture together with World Bank mission delegates (Sedimentation measures)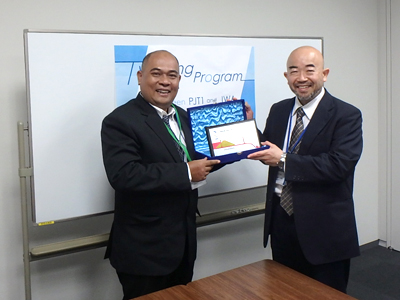 Day 1:
Exchange of gifts [Left: Vice President Mr. Wahyu, right: Mr. Ojima, Director, International Affairs Div.]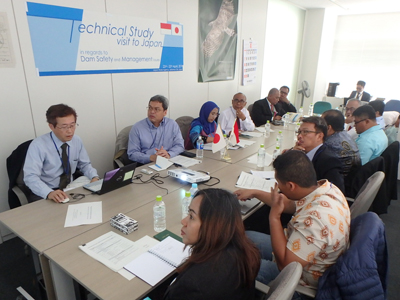 Day 2:
Exchange of opinions on dam management and earthquake resistance measures (With World Bank mission delegates)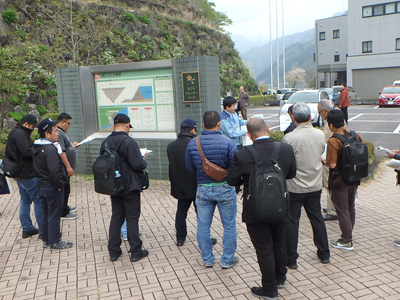 Day 3:
Visit to Urayama Dam and learn the dam management in practice with World bank mission delegates.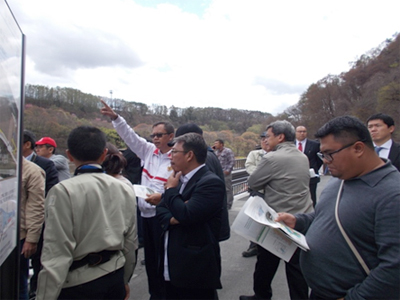 Day 4:
Learned the countermeasure for sedimentation at the reservoir of Koshibu Dam with World Bank mission delegates