Water Supply Support Operations -Water ties life and heart together.-
20 June, 2019

As the Japan Water Agency (JWA) is appointed public organization under Disaster Countermeasures Basic Act, we receive requests for assistance on various disaster cases from national, municipal governments, and other related organizations. As long as such a request does not interrupt our operations, we are complying with such requests to the fullest extent with our engineering capacity so that the damages from disaster will not expand any further.
The torrential rain attacked Hiroshima Prefecture in July 2018, caused the huge disaster.
Aiming at proactively contributing to the rehabilitation of the disaster-hit area, we implemented
the water supply support activities in Mihara City, Hiroshima Prefecture
with our portable desalination device.
In this special article, we would like to introduce the outline of our activities, as follows:
Torrential rains in July 2018
From 28 June to 4 July, a stationary front in northern Japan moved southward toward western Japan from 5 July and stayed there again. In addition, Typhoon No.7 emerged on 29 June kept supplying warm and moist air. Eventually, the said stationary front stayed there until 8 July and caused record heavy rainfall resulting in the disasters over a wide range of western Japan.
JWA conducted swift and appropriate flood control operation at various dams and other related facilities to prevent flood disasters or mitigate them. Under such circumstances, we established
the emergency disaster countermeasure & assistance headquarters
based upon the request for the preparations against the disasters from MLIT(=Ministry of Land, Infrastructure, Transport, and Tourism) on 10 July.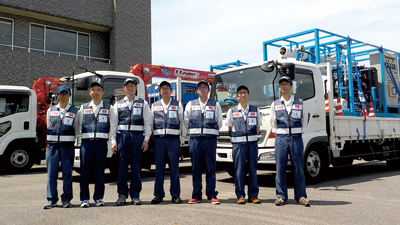 The support team of No.1 Device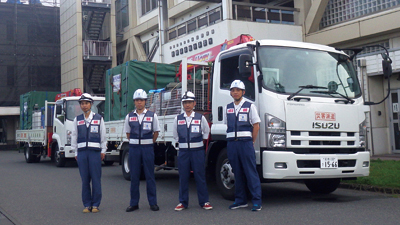 The support team of No.2 Device
At around 7 p.m. on 10 July, following the request from the MLIT, JWA decided to perform
water supply support under "Push Style"
(i.e. the assistance to start without waiting for the official request from the individual municipality)
for Setoda Town, Onomichi City, Hiroshima Prefecture (Ikuchi Island)
. And we started the preparations for mobilizing No. 1 portable desalination device kept at Aichi Canal Integrated Operation and maintenance Office, Togo Town, Aichi Prefecture and No.2 portable desalination device kept at Tone Canal Management and Construction Office, Gyoda City, Saitama Prefecture.
There was the information from MLIT to the effect that
the Landing Ship "Osumi"
of the Japan Maritime Self Defense Force was available for transporting the devices. As No.2 device was located closer to Yokosuka Port, it was dispatched to that port for being loaded there along with the support team.
At around 8:00 a.m. on 11 July, No.2 device left Yokosuka Port and headed for Kure Port, Hiroshima Prefecture No. 1 device left the office in Aichi Prefecture to be transferred by truck at around 10:30 a.m..
In parallel with the departure of
the support team, Yoshino River Headquarters, Takamatsu City, Kagawa Prefecture
where local emergency disaster management headquarters had been established, started the arrangement of accommodations for the support team as well as preparations of the formation and dispatch of the advance team which worked for logistic support.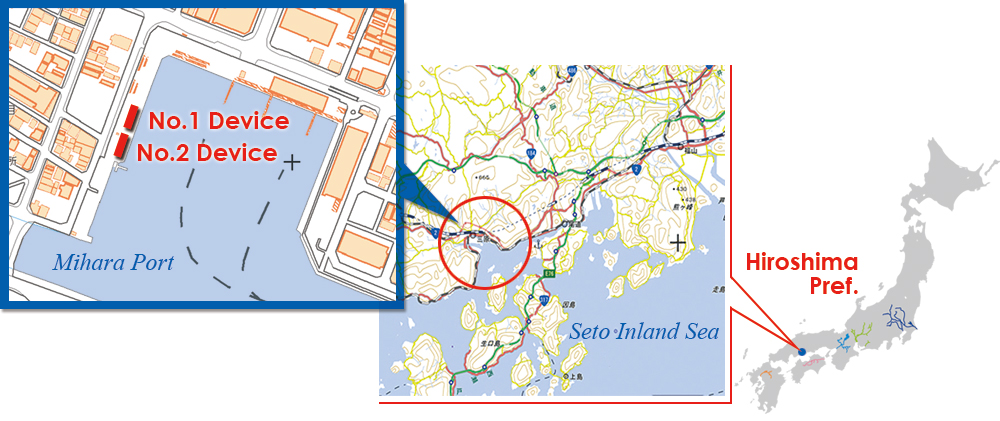 Installed location
At around 6:30 a.m. on 11 July, No.1 device arrived in Setoda Town, Onomichi City of Hiroshima Prefecture safely without any problems on the way. At 0:10 a.m. on 12 July, after the discussions with the Public Enterprise Bureau of Hiroshima Prefecture, the destination of No.1 device was changed to
Mihara City of Hiroshima Prefecture
, where more severe disaster was taking place. In Mihara City, extensive water supply suspension had been kept due to devastating damages on the water supply network, from water purification plants to water supply pipelines caused by extensive mud slide and flood damages.
Advance team proceeded to Mihara Port under the cooperation of the Public Enterprise Bureau. Then in the morning of 12 July, that team headed for Mihara City
to work on installation of No. 1 desalination device to desalinate sea water to generate fresh water for raw water
. In the morning of 12 July, official assistance decision was confirmed in the meeting with the Public Enterprise Bureau . Accordingly, No. 1 device arrived at Mihara Port, which would become the center of water supply support operation at around 12:00 p.m..
As to the No.2 device, it was carried by JMSDF "Osumi" and arrived at Kure Port around 8:00 a.m. of 13 July, and then it was carried to Mihara City. At around 1:00 p.m. on 13 July, and arrived there with the support team.
The outline of the portable desalination devices
Here, let us explain the outline of our portable desalination devices now.
The most convenient feature is their mobility
. Being loaded on the truck, it can be moved to any place across the country where water is needed and generate purified water there.
The JWA's units have more advanced features of desalination of sea water
.
To purify sea water into fresh water, it requires elimination of salt and boron contained in the sea water. To do such conversion, a very fine porous filter is needed. Our devices are equipped with such a material to work for desalination.
To make full use of such a feature,
JWA has been conducting water supply support operations even at a remote island
in addition to the destinations in the mainland of Japan.
What is the portable desalination device?
It is
a device which generates purified fresh water out of seawater
through the installed membrane which has micro-apertures. One of the main features of the units is its advanced
mobility
. Pressed raw water such as seawater goes through ultrafiltration membrane and reverse osmosis membrane thanks to the higher pressure than normal osmosis pressure. Through the process, ion-level material is removed and only pure water molecules penetrate the film unit to generate the satisfactory level of water, i.e. meeting the water quality standard for drinking water.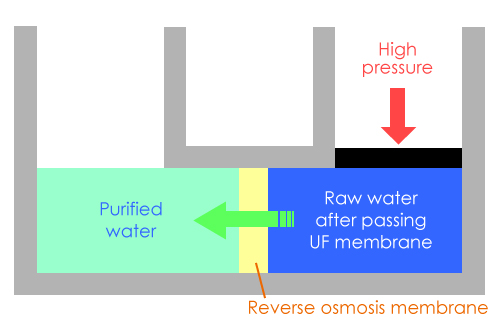 Figure-1: Water purification mechanism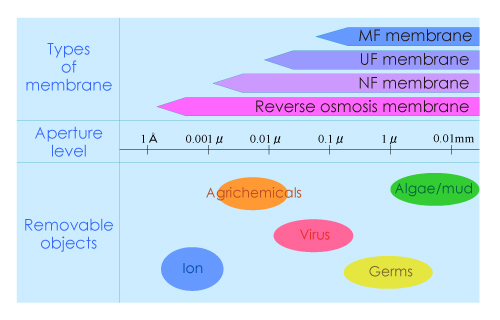 Figure-2: Types of membrane and removable objects
Specifications of portable desalination devices of JWA
No.1 Portable desalination device
Storage Site

Aichi Canal Integrated Operation and Maintenance Office

Capacity

35m³/day

Process Method

Double pass reverse osmosis membrane method

Pretreatment method

Sand filtration method

Size (weight)

Pretreatment module:1.2m X2.2m X 2.0m (approx.1.0ton)
Main body: 1.5m X 4.5m X 2.0m (approx.2.4ton)

Transport method

One unit of 8t truck crane (2.9t crane) & two units of 4t trucks
No.2 Portable desalination device
Storage Site

Tone Canal Management and Construction Office

Capacity

50m³/day

Process Method

Single pass reverse osmosis membrane method (high boron removal)

Pretreatment method

Ultrafiltration membrane filtration method

Size (weight)

Pretreatment module: 1.9m X 2.3m X 1.8m (approx. 1.25 ton)
Main body: 2.0m X 1.9m X 1.6m (approx. 1.68ton)

Transport method

Two units of 8t truck crane (2.9t crane)
Supply of water for miscellaneous use in addition to raw water
No. 1 device became ready for raw water generation at 11:30 a.m. on 13 July, after trial operation. Coordinating with the Public Enterprise Bureau, it was decided that this device would be used to generate drinking water instead of raw water. To allow this change, JWA was asked to conduct water quality inspection before starting water supply.
At the time of normal operation, water quality inspection before water supply is performed by the water supply utility. But under such emergency situation, we were asked to conduct both water quality inspection and raw water supply. It was the first experience for us to be involved in both of the work. The Public Enterprise Bureau was engaged in the daily inspections (i.e. color, turbidity and residual effect of disinfection) upon the commencement of our operation.
In the evening of 14 July, we confirmed that the treated water met the water quality standards such as pH value, odor, appearance, E. coli, turbidity, and residual chlorine. So we decided on
the supply of water for miscellaneous use from 15 July
in consideration of the situation of water shortage in the surrounding area. The supplied water was used for cleaning, plant watering and flushing toilets and so on.
Full-scale water supply assistance
Afterwards raw water processed in No.1 device met the standards for drinking water and raw water out of No.2 device also met the standards for the water for miscellaneous use. So
from 9:00 a.m. on 16 July, full-fledged water supply operation begun for drinking water and for miscellaneous use water respectively
. JWA announced the commencement of water supply operation through our website, the press as well as SNS like Twitter and Facebook.As a consequence, our activities drew local media attention accordingly.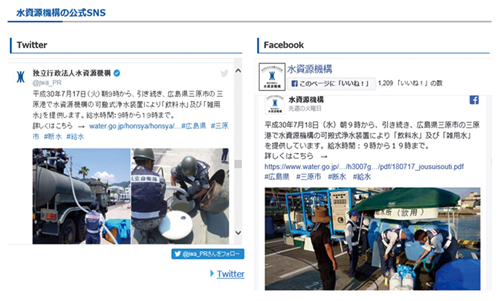 (SNS) Twitter & Facebook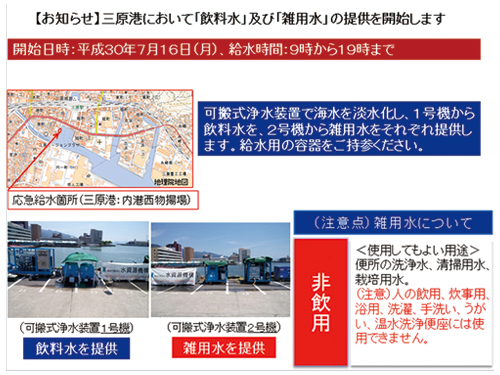 JWA website
Media report
TV report
CX Fuji TV

11:55a.m. on 16 July, 2018

TSS TV

0:21p.m. on 16 July, 2018

RCC Broadcasting

8:11p.m. on 16 July, 2018
Press report
The Chugoku Shimbun (local)

15 July, 2018

The Yomiuri Shimbun (local)

19 July, 2018
Thanks to our announcement and media report regarding the water supply with No.1 device, the range of our water supply extended much wider, including the supply to sprinkler trucks of MLIT, the Japanese Air and Ground Self-Defense Forces, and local people directly coming to our water station. Through these chances via water, we felt the moments of connection with people.
In addition to the supply assistance of drinking water with No.1 device, we started operating No.2 device, aiming at supplying drinking water. But judging from the actual drinking water demand in the disaster-hit area and the recovery status of water works facilities in Mihara City, we realized that the daily supply capacity of our No.1 device for 35m³/day was good enough. So we cancelled the operation of No. 2 device for drinking water supply.
Within the water supply support period, we coordinated with the Public Enterprise Bureau of Hiroshima Prefecture on a daily basis to grasp the status of water suspension and the needs of water in the disaster-hit areas. For eight days from 15 to 22 of July, we supplied water in the amount of approx. 38,000 liters (35,243.5 liters for drinking and 3,040 liters for miscellaneous use), equivalent to 2,100 pieces of 18 liter plastic containers. On 23 July, the head of Yoshino River Headquarters gave the final report on the water supply support operation to the mayor of Mihara City and completed the operation.
At a later date, we received the letter of gratitude from the mayor of Mihara City for our prompt assistance for the disaster-hit areas.
JWA's water supply assistance
The Great East Japan Earthquake
Sakuragawa City, Ibaraki Pref.

9 days (14 Mar, 2011 - 22 Mar, 2011)

Enoshima, Onagawa Town, Miyagi Pref.

541days (26 Sep, 2011 - 19 Mar, 2013)
Kumamoto Earthquake
Yamato Town, Kumamoto Pref.

3 days (22 Apr, 2016 - 24 Apr, 2016)
Drought
Chichijima, Ogasawara Village, Tokyo

41 days (16 Jul, 2011 - 26 Aug, 2011)
94 days (18 Feb, 2017 - 22 May, 2017)

Toshima Village, Tokyo

34 days (8 Jun, 2016 - 11 Jul, 2016)

Hahajima, Ogasawara Village, Tokyo

underway (6 Apr, 2019 to present)
Closing
This assistance activity completed safely under the chaotic situations due to the torrential rains in July 2018 but there appeared some issues which needed to be challenged. In the past cases of support for the water supply utilities, JWA used to coordinate support with each utility individually. Accordingly, there have been some cases where some information could not be well collected and organized in terms of geographical situations, water supply conditions of each utility, and/or status of emergency rehabilitation, and so on.
In order to resolve those problems,
JWA concluded a contract on assistance activities at the time of disaster with Japan Water Works Association, which had good result in establishing hierarchically controlled assistance system for emergency water supply on a nationwide network basis on 7 December, 2018.
With this know-how on assistance, we have organized the driving force and system to promptly conduct water supply assistance efficiently and effectively from broader perspective. Big calamities such as the disaster caused by torrential rainfall in July 2018 could become more frequent in the future. And we anticipate needs for water supply support requested by local municipalities will be on the rise further. With such a situation in mind, we are now in the process of increasing the number of our staff who are capable of handling portable desalination devices through seminars and trainings. We would like to proceed with the preparations so as to cope with the possible future disasters.