Dams, Canals
Chubu Area
Agigawa Dam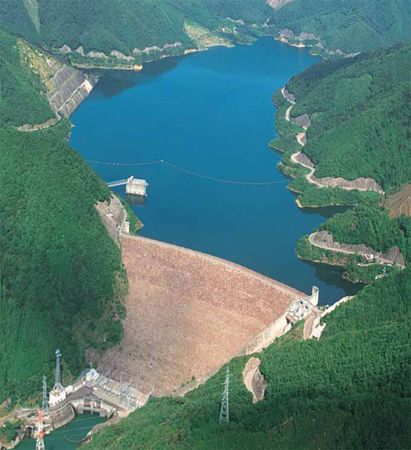 Purpose
FNWI

*

See more -> the functions of the dam
Location
Ena City, Gifu Pref.

*

See more
River
Agi River, Kiso River System
Type
Rockfill dam
Gate
Box girder type flap gate:2
Dam top over flow radial gate:2
High head radial gate:1
Dam Height(m)
102
Crest Length(m)
362
Total Storage
(1,000m³)
48,000
Completion
1990
Details
Because the crest of overflow spillway is so long, one of the nations' largest flap gates was adopted to secure the enough overflow depth.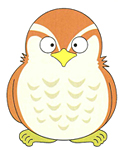 Agi-kun
Location
Address

Ena City, Gifu Pref.

Phone No.

+81-573-25-5295
*Agigawa Dam Operation and Maintenance Office
Access
Car
Approx. 10 min. from Ena IC of Chuo Expressway
Dam Card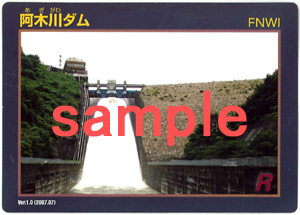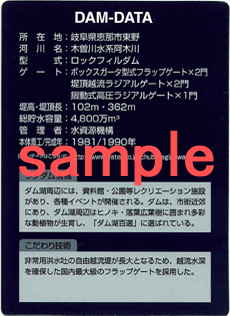 Award
Tourist Spots
Iwamura Town and Iwamura Castle Ruins

Iwamura Town is also designated as an Important Preservation District for Groups of Historic Buildings. During Edo Period, this town was the center of commerce of the Iwamura Castle Town but this town was off the main trafic route, so it has retained the traditional setting since then. At the top of the Mt. Shiroyama, ruins of Iwamura Castle remains. This castle is known as one of the three major castles standing on high elevation area because its main structure was located at 717m above sea level. Japanese Sake brand with "

Female Lord of the Castle

" is also popular among tourists to this town.


Photo by "Hot Iwamura" HP

See more ->

Hot Iwamura [The Brochure]
Gourmet Information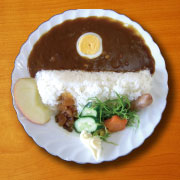 Agigawa Dam Curry and Rice
Full of locally grown rice and vegetables. Chinese water spinach grown on surface of the reservoir is served in summer.
¥800 (excluding tax)
Friendly Restrant (run by NPO) next to the Disaster Management Resource Center
Address

2201-57 Hananashiyama, Higashino, Ena City, Gifu Pref.

Phone No.

+81-573-25-1302

Open

10:00-16:00

Closed

on Thu.
*Prices and ingredients may change.
Events
Takigi Noh at Iwamura Castle Ruins [End of August]

Takigi Noh is held here at the former residence of feudal lord of Iwamura Clan. Behind the Noh play stage is

the splendid old pine tree with widely extended branches and twigs

. This old pine tree is the symbol tree which is believed to have observed the long history of Iwamura Castle and its town life. The Noh performance staged

under the vague light of the torches and from moonlight

attracts audiences with Japanese traditional true thrill.


Entry fee:

\3,000 (advanced ticket) for an adult.(\3,500 for the day of performance), \1,000 for a junior and senior high school student.


Hina Dolls Festival in the Iwamura castle town [Beginning March through Beginning April]

Hina Dolls are on display at

around 100 places

, either under the eaves on the showcasing stages, entrances to the houses, and/or display rooms,

in row of historical houses of designated important traditional structures in Iwamura Town

. This event first started with those hina dolls long kept in storage behind in the house over the years, then they were brought in front and was on display to the local residents and the tourists. As this event turned out a success, this has become the official event of the town. Now

at Kimura's Residence and at Tosa-ya

, both of which are the town-designated historical structures, the dolls are on display to entertain the tourists. Among those exhibits, there are clay dolls and hanging scrolls depicting hina dolls, too.