Dams, Canals
Chubu Area
Iwaya Dam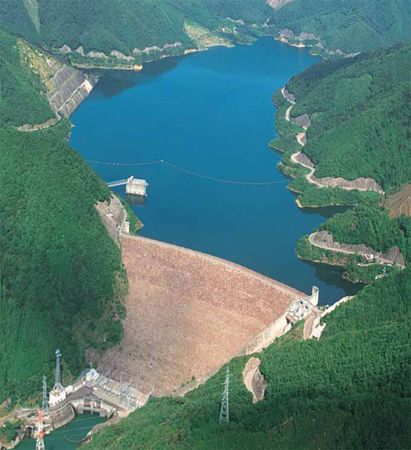 Purpose
FAWIP

*

See more -> the functions of the dam
Location
Gero City, Gifu Pref.

*

See more
River
Maze River, Kiso River System
Type
Rockfill dam
Gate
Radial gate:2
Dam Height(m)
128
Crest Length(m)
366
Total Storage
(1,000m³)
173,500
Completion
1976
Details
Iwaya Dam has a ski jumping-type spillway. As to the design of the spillway, hydraulic model experiment was conducted and formation of water cushion was confirmed through the design calculation and the hydraulic model experiment.


See more

The Brochure [1.5MB]

Web site

Iwaya Dam Operation and Maintenance Office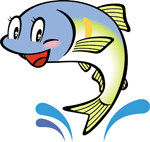 Ayu-chan
Location
Address

Gero City, Gifu Pref.

Phone No.

+81-576-35-2339
*Iwaya Dam Operation and Maintenance Office
Access
Train
Approx. 25 min. by car from Hida-Kanayama Sta. of JR Takayama Main Line
Car
Approx. 60 min. from Gujo-Hachiman IC of Tokai-Hokuriku Expressway
Approx. 60 min. from Tomikaseki IC of Tokai-Kanjo Expressway
Dam Card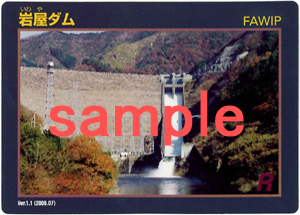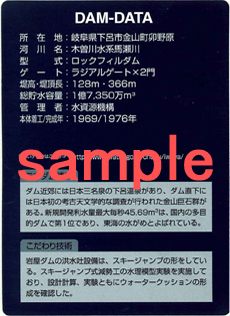 Tourist Spots
Gero Hot Springs

Gero Hot Springs resort is well known as one of the three renowned hot springs in Japan and attracts many hot spring fans from all over Japan. 80 degree hot water has been pouring out from the sources and distributed to the hotels and Japanese style inns, etc. Many tourists appreciate cosy atmosphere in addition to the smooth skin they can get with hot baths bathing.


Gujo Hachiman of Gujo City and Gujo Hachiman Castle

About half an hour drive from Iwaya Dam, there is an authentic small town named Gujo Hachiman. As its English website states you can have an experience of a visit to an "off the beaten path" town. Central part of the town was is designated as an Important Preservation District for Groups of HIstoric Buildings. When you walk through the street, you will easily find many water water containers with affluent water is pouring into and water fountains directly. Gujyo Hachiman Castle is one of the must to see sites for tourists. The castle tower was reconstructed but its main structure is of woods and from there you could see the town and surrounding forest.

Gourmet Information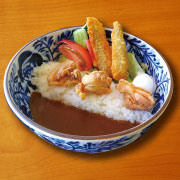 Iwaya Dam Curry and Rice
Served with some deep-fried chicken and a fried sweetfish
¥980 (excluding tax)
Mazegawa Hot Spring "Mikinosato"
Address

1695 Mazenishimura, Gero City, Gifu Pref.

Phone No.

+81-576ー47-2641

Open

11:00-14:30, 17:00-19:30

Closed

Irregular holidays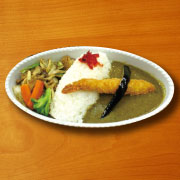 Green Dam Curry and Rice
Spinach Green Curry and Rice, symbolizing the dam reservoir environment
¥980 (excluding tax)
Hida Kanayama Hot Spring "Yuttarikan"
Address

973-2 Kanayamacho-kanayama, Gero City, Gifu Pref.

Phone No.

+81-576ー33-2492

Open

10:00-20:00(14:00-17:00 / serve only drinks on Weekdays)

Closed

on Tue.
*Prices and ingredients may change.
Events
Tanokami Festival of Gero (Nationally designated important intangible folk culture asset) so-called "Hanagasa (=Flower Cap) Festival" [7 through 14 February]

This is the annual "Tanokami Festival", literally meaning

Rice Paddy Deity Festival

held at Moriminashi-hachiman Shrine. This is called the festival to signal the coming of spring to Hida Region of Central Japan. Four youngsters called "

dancers

" wearing colorful flower-decorated caps perform dancing at the shrine. That's why this festival is also called

Flower Cap Festival

.
This festival has been successfully inherited for generations and in 1981 this was designated as

an important intangible folk culture asset

.


Bonfire Fishing at clear stream Mazegawa River [End of August to Beginning of September]

Mazegawa River is well known for its

pure and clean water quality

. Thanks to its extra cleanness of water,

the sweet fishes

living in this river present surprisingly sweet and fresh taste to the local people who catch and grill the sweet fishes there. On this river fishermen take

the traditional fishing method of using firing torches hung on the bamboo rods

. Moving the rods with torches here and there along the river,

those sweet fishes are surprised and frightened to stay away from them and get caught with the fishing net

. This fishing method once died sometime ago but as this represented the traditional fishing method and the local fishermen revived it with strong enthusiasm in success in 2012.