[NB-1]Mihata Burial Mounds
Nabari City, Mie Pref.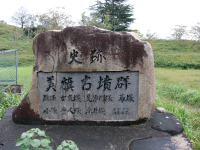 Seven ancient tomb mounds in different shapes (round, rectangular, keyhole shape) are spotted in Mihata area of Nabari City. They were built in the Tumulus period from the 3rd to 7th century and compose the largest burial mound group in Iga region. There is a gentle undulated walking trail course available along the burial mounds for your comfortable historical site tour.