[1] Urayama Dam / Saitama Pref.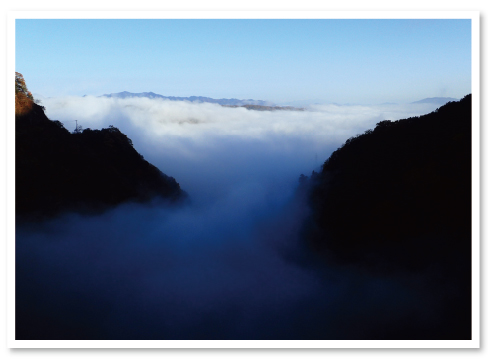 "The scene of a monochrome landscape painting on the sea of clouds"
The picture gives the photogenic sea of clouds, just like a monochrome landscape painting. This is the famous spot in Chichibu region of Saitama Prefecture. You cannot expect to see such a scene all the time when you come to the site. So when you encounter the scene, you will be enchanted.
The meteorological condition you can expect the emergence of such a scene is:
When you had a clear fine day the previous day
Highly humid on the day
Temperature is quite low.
There is a warm and dry atmospheric layer in the high sky.
Level of difficulty
★★☆☆☆
Time
Early morning when the atmosphere is chilly (Best season:

Oct.-Nov.

You may have a chance during

Apr. and May

period.)
Place
From the center of crown of Urayama Dam to its left bank